Position: Goalkeeper
Date of Birth: 05/11/1984
College Experience: Portland
Pro Team: New York
Height: 6'1"
Weight: 190
Caps: 3
Shutouts: 1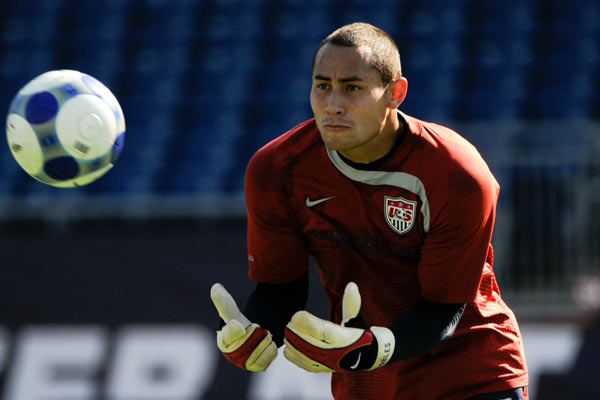 Luis Robles played college soccer for the University of Portland and entered the MLS SuperDraft in 2007 only to decide to pursue a professional career in Germany. Signing with Kaiserslautern, Robles spent five seasons overseas before joining MLS as a member of the New York Red Bulls. While with Kaiserslautern, Robles won his first USMNT cap in a Gold Cup game against Haiti in 2009. With New York, Robles quickly emerged as the #1 starter.
USMNT Experience
2017: Started against Jamaica on Feb 3.
2016: Started against Iceland on Jan 31.
2009: Named to the Confederations Cup roster and the Gold Cup roster, debuting for the USMNT in the Jul 11 Gold Cup game against Haiti.
Professional Experience
2016: Advanced to the Eastern Conference semifinals with the Red Bulls.
2015: Made the Eastern Conference finals with the Supporters' Shield winners the New York Red Bulls. Named Goalkeeper of the Year in MLS.
2014: Finished fourth in the Eastern Conference with the Red Bulls, exiting the playoffs in the Eastern Conference semifinals.
2013: Played in all 34 of New York's games and won the Supporters' Shield.
2012: Signed with the NY Red Bulls in Aug and played in four games.
2011-12: Finished 16th with Karlsruher, appearing 28 times for the club over two seasons. 2010-11: Finished 15th in the 2.Bundesliga with Karlsruher.
2009-10: Won the 2.Bundesliga. Robles left the club with 21 appearances and signed with Karlsruher.
2008-09: Joined the senior squad, finishing 7th in the 2.Bundesliga.
2007-08: Signed with Kaiserslautern playing 15 times for their reserve team.