Position: Midfielder
Date of Birth: 11/08/1973
College Experience: Princeton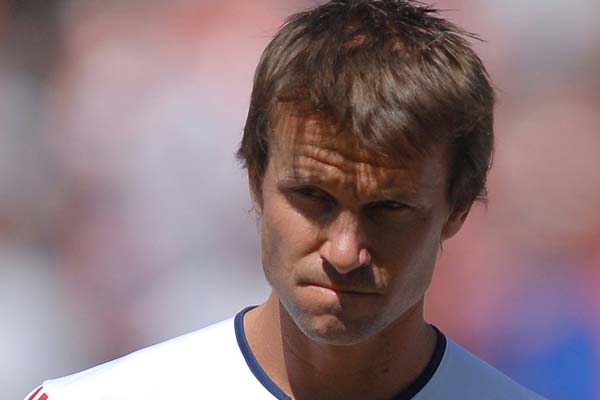 Versatility is a strong asset, and it's something Jesse Marsch used throughout his career for club and the USMNT. Marsch was an offensive standout at Princeton University, but slipped right into a defensive midfield role when he joined the Chicago Fire. He played wherever needed with the USMNT.
In the pro game, Marsch was a stalwart and consistent cog in the midfields of both the Chicago Fire and Chivas USA. He became internationally known for first taking out and then squaring up to David Beckham in one of Beckham's first MLS appearances for the LA Galaxy in the late summer of 2007.
Marsch retired from Chivas USA after the 2009 season when he joined Bob Bradley's US National Team staff as an assistant coach. He later coached the Montreal Impact in their expansion season. In 2015, he took over as coach of the New York Red Bulls. Marsch left that job for an assistant coach role with RB Leipzig in July, 2018. He moved to Red Bull Salzburg as head coach for the 2019-20 season. For 2021-22 he returned to RB Leipzig as the club's head coach. The two parted ways in December, 2021. Marsch joined Leeds United as their manager on February 28, 2022, leaving on February 6, 2023.
USMNT Experience
2007: Returns to the USMNT for the May friendly against China, coming on as a substitute in the 80th minute.
2001: Made his international debut in a World Cup qualifier against Trinidad & Tobago.
Professional Experience
2009: Played in 23 games starting 21 with Chivas USA. Retired after the season to become a US National Team assistant coach.
2008: Started 24 of 25 games with Chicas USA, and started both their playoff games as they exited in the opening round.
2007: A key member of the Chivas USA midfield as the team took the Western Conference regular season title. Made 30 starts (two goals and four starts) overall.
2006: Helped re-built Chivas USA make the playoffs for the first time. Scored two goals and tallied three assists in 32 starts overall.
2005: Scored six goals and registered two assists in 31 games (25 starts) in last season with the Fire.
2004: Missed Fire's first 19 games due to off-season surgery on his right ankle. Made ten appearances.
2003: Scored five goals in 23 games overall (19 starts) helping the Fire win the Supporters' Shield and the US Open Cup.
2002: Led team in minutes played, scoring a goal and 7 assists in 31 games overall.
2001: Started in 33 games both regular- and post-season for the Fire, scoring three goals and adding eight assists.
2000: Played a career-high overall 37 games (36 starts) with the Fire on their way to the MLS Cup final, tallying two goals and nine assists. Helped them win the US Open Cup title too.
1999: Played 32 games (30 starts) overall, scoring two goals and notching three assists in second year for Chicago.
1998: Traded to the Chicago Fire from DC United. Played in 34 games (30 starts) for the Fire as they won MLS Cup against his old side, tallying three goals and three assists on the way.  Scored a game-winning goal in the playoff semifinals against LA.
1997: Scored three goals for United in 11 games (one start).
1996: Played in four games as a sub in his rookie campaign for DC United, scoring a lone goal.
College career: Scored 30 goals at Princeton, where he played under former Fire head coach Bob Bradley.