Forward
Biography of USMNT soccer player Alan Gordon who retired as a member of the Chicago Fire.
Caps: 2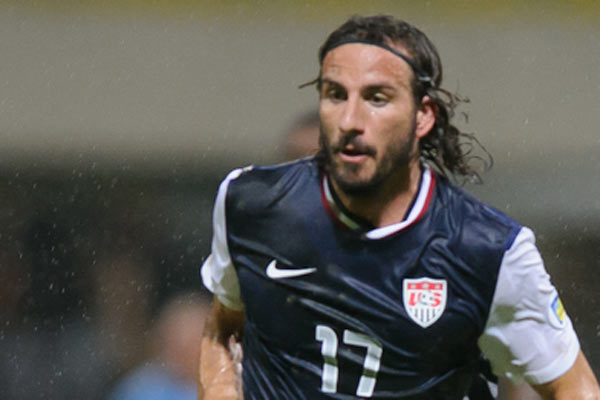 Alan Gordon made his debut for the USMNT in 2012, well into his MLS career. Gordon joined the LA Galaxy in 2005, signing with the club from the A-League Portland Timbers where he won the 2004 league title. He won the MLS Cup in 2005. He made the move to the other locker room in Carson, traded to Chivas USA in 2010. He joined Toronto the next season, where he was traded to the San Jose Earthquakes. Gorodn rejoined the Galaxy late in the 2015 season, winning the MLS Cup. He moved to the Colorado Rapids for the 2017 season. In Oct 2012 Gordon played for the USMNT against Antigua & Barbuda in World Cup Qualifying. He joined the Gold Cup squad in July, 2015.
USMNT Experience
2013
Part of the Gold Cup squad but didn't play.
2012
Called into USMNT camp for the Mexico friendly in August but didn't play. Made his debut on Oct 12 against Antigua & Barbuda, coming on as a substitute.
Professional Experience
2018
Signed with Chicago three weeks into the season. Announced his retirement following the season.
2017
Joined the Colorado Rapids.
2016
Made the playoffs with the Galaxy.
2015
Finished 5th in the West, making the playoffs.
2014
Traded to the LA Galaxy on Aug 11th. Won the MLS Cup as a member of the Galaxy.
2015
Called into the 2015 Gold Cup squad between the group and knockout stages. Subbed on in the second-half of the semifinal against Jamaica on Jul 22. 2013: 4 goals in 24 games with the Earthquakes.
2012
Played in 23 games scoring 13 goals for San Jose.
2011
Joined Toronto FC where he scored 4 times in 8 games. Moved to San Jose, scoring once in 2 games.
2010
Scored 1 goal in 9 appearances for Chivas USA.
2009
22 games and 3 goals for LA.
2008
Played in 26 games and scored 5 goals for LA.
2007
14 appearances and 3 goals for the Galaxy.
2006
Played in 17 games for the Galaxy, scoring 4 goals.
2005
Joined the Galaxy, playing in 5 games and winning MLS Cup and the U.S. Open Cup.
2004
Drafted by the LA Galaxy but signed with the A-League Portland Timbers. Played in 27 games scoring 17 goals and won the A-League title. Named A-League Rookie of the Year. Played three games on loan with the LA Galaxy.
Youth and College
High School and College: Originally played for Yavapai College and then transferred to Oregon State.