Position: Defender
Date of Birth: 05/24/1982
Pro Team: Houston
Height: 5' 7"
Weight: 126 lbs
Caps: 126
Goals: 17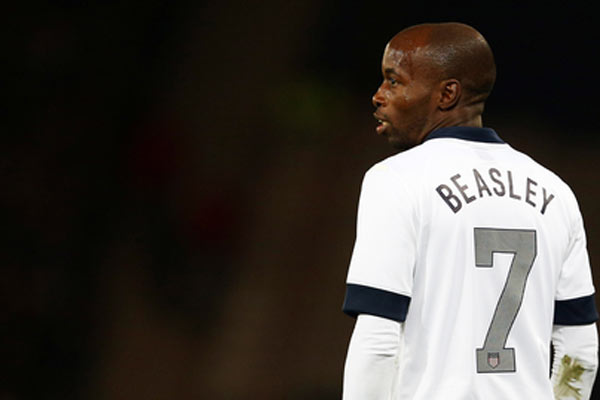 There have been few players in USMNT history to come along and provide as much immediate excitement as DaMarcus Beasley did in 2001-02. A remarkable two-way player, he possesses lightning speed, quick feet and intelligent defensive instincts that made him not only a member of the USMNT for the 2002 World Cup as a teenager, but a prominent starter.
Beasley enjoyed a high-profile career with the U-17 USMNT as a teammate of current national team stars such as Landon Donovan and Oguchi Onyewu. His performance for John Ellinger's U-17s helped the side advance to the semifinals of the 1999 FIFA U-17 World Championship. In that tournament, Beasley earned the Silver Ball as the tournament's second most valuable player.
Beasley joined MLS as a member of the Los Angeles Galaxy in 1999, but he never played. After being traded to the Chicago Fire in 2000, he scored six goals and started 11 games on one of the strongest sides in the league, featuring Peter Nowak, Hristo Stoitchkov and Chris Armas. In his sophomore campaign, he blossomed into one of the league's top midfielders and made his first MLS All-Star team at the age of 19.
While he received his first cap with the USMNT in 2001, it wasn't until the winter of 2002 when he really proved his worth and showed he was a candidate for that summer's World Cup team. During first round CONCACAF Gold Cup play, he unleashed a lethal left-footed volley in stoppage time to give the U.S. a dramatic victory over South Korea. His strong performances that spring led to his being named to Bruce Arena's first World Cup roster.
At the 2002 World Cup in Korea/Japan, Beasley was a revelation for the Yanks. He started two matches, including the side's historic 3-2 victory over Portugal in the opening match of Group Play, and came on as a substitute in one other match to give the U.S. a much-needed boost of speed on the left side of the field. He did this while battling various leg injuries, as well, as a 20-year-old.
After completing a multi-million dollar transfer to PSV Eindhoven (Holland) from the Chicago Fire in the summer of 2004, Beasley became the first U.S. player to appear in the semifinals of the prestigious UEFA Champions League when PSV faced AC Milan. In that 2004-05 season, Beasley helped PSV win the Dutch double — winning the Dutch Eredivisie title and the Amstel Cup in the same season — and was a regular starter as a wing in the side's 4-3-3 formnation. He also scored six goals in 13 Champions' League games for PSV, which opened up eyes all around the world. His exploits for club and country, including scoring four goals for the second straight year for the U.S. national team, made him a finalist for 2005 U.S. Soccer Male Athlete of the Year.
In the 2004-05 eighteen-game World Cup qualification campaign, Beasley was a key member of the U.S. national team, tying for third on the team in World Cup qualification goals scored with four. During the 2006 World Cup, Beasley started two matches for Arena and appeared as a substitute in the third. His assist to Clint Dempsey in the 2-1 loss to Ghana in the team's third match of Group E play was one of the team's highlight moments of the tournament.
Looking to move on from PSV, Beasley was able to join Manchester City in the English Premier League in August 2006 on a one-year loan. Here he was temporarily reunited with former US captain Claudio Reyna, until Reyna returned to MLS.  Beasley scored three goals for City during an injury-blighted stay with the team before joining Scottish side Glasgow Rangers on a permanent basis at the start of the 2007-08 season.
Beasley's debut run with Rangers was cut short by an injury in Champions League play, but he recovered in time to factor late in the season. Injury limited his appearances in 2009-10 and he announced that he would be leaving the club when his contract ran out at the end of the season.  He signed with Hannover 96 in August 2010. He moved to Puebla in Mexico's Primera Division for the 2011 Apertura season. 
DaMarcus Beasley reemerged as a key member of the USMNT in 2013, playing as a defender. He stayed in that role through World Cup Qualifying and started in the 2014 World Cup. He joined the Houston Dynamo in July of 2014. Beasley announced his retirement following the 2019 season.
DaMarcus Beasley USMNT Experience
2017: Subbed on in the second-half against Jamaica on Feb 3. Started against Mexico on Jun 11. Started against Honduras on Sep 5.
2015: After announcing his international retirement at the end of 2014, Beasley reconsidered and rejoined the USMNT for the knockout rounds of the 2015 Gold Cup. Subbed on in extra time against Panama on Jul 25. Started the Confederations Cup playoff against Mexico on Oct 10.
2014: Named to the final World Cup roster. Started against Azerbaijan on May 28th and Nigeria on June 8th. Started against Ghana in the World Cup Group G opener on June 16th. Started against Portugal in the World Cup on June 22nd and against Germany on June 26th. Started against Belgium in the Round of 16 on July 1st. Subbed on in the second-hand against Colombia on Nov 14.
2013: Started against Costa Rica in the Mar 22 World Cup Qualifier and on Mar 26th against Mexico. Earned his 100th cap against Belgium on May 29th in Cleveland and started against Germany on Jun 2nd. Started against Jamaica in the Jun 7 World Cup Qualifier and against Panama on Jun 11. Captained the USA against Guatemala on Jul 5. Captain for the 2013 Gold Cup. Started against Costa Rica on Jul 16. Started in the Gold Cup quarterfinal against El Salvador on Jul 21, the semifinal against Honduras on Jul 24, and the final against Panama on Jul 28. Started against Costa Rica on Sep 6 and Mexico on Sep 10. Started against Jamaica on October 11. Started against Scotland on Nov 15 and Austria on Nov 19.
2012: Subbed on for the second-half against Mexico on Aug 15th.
2011: Came on as a second-half sub against Honduras on October 8th.
2010: Returned to the US lineup against Holland on March 3rd, setting up the USA's only goal in the 2-1 loss. Named to the World Cup squad. Came on as an 80th minute sub against Algeria.
2009: Took his regular place in the starting lineup against Mexico on Feb 11th. Moved to defense for the 3-0 win over Trinidad & Tobago on April 1st and the game against Costa Rica on June 3rd.  art of the Confederations Cup squad.
2008: A regular for the USMNT after recovering from injury.
2007: Was a member of the Gold Cup winning team, playing five games in the tournament, scoring two goals, and registering one assist. Was rested for Copa America.
2006: Appeared in seven matches for the US National Team … Started two matches for the U.S. in the 2006 World Cup, and appeared in all three games the team played.
2005: A stalwart with the national team through the qualifying run, appearing in 13 games including the team's championship run in the 2005 Gold Cup.<br>
2004: Finished in second place for both goals scored (4) and minutes played (1170).  One of only two players to start all eight World Cup Qualifiers.  Recorded his first three World Cup Qualifying goals, all against Grenada.
2003: Played 12 games, starting nine, and scored a goal in the 2-0 win over Paraguay.
2002: Started World Cup games against Portugal and South Korea and appeared as a substitute against Poland … Scored in consecutive games in U.S. wins over Uruguay and Jamaica … Scored first goal as U.S. international with a game-winner against South Korea in first round of Gold Cup
2001: Named the 2001 U.S. Soccer Young Male Athlete of the Year … Debuted as a full international against China on January 27
2000: Appeared in three games for the U.S. under-23 national team at the World Youth Championship in Argentina.
1999: Won the Bronze Medal with the U-23s at the 1999 Pan Am Games … Won the Silver Ball in the 1999 FIFA U-17 World Championship for being the second best player in the tournament, as selected by the FIFA Technical Committee.
1997: Made his international debut with the U.S. under-16 team against France on May 20, 1997.
DaMarcus Beasley Professional Experience
2019: Final season with the Dynamo, playing his last game in their season finale on Oct 6.
2018: 26 appearances with Houston. Won the US Open Cup.
2017: 24 games with Houston.
2016: 24 games with the Dynamo.
2015: Played in 28 games with Houston.
2014: Finished 16th with Puebla in the Clausura. Left the club at the end of the season. Beasley signed with the Houston Dynamo on July 23rd.
2013: Finished 16th in the Clausura and 13th in the Apertura with Puebla. 
2011-12: A regular with Puebla who finished 12th in the 2011 Apertura and 2012 Clausura seasons.
2010-11: Spent the Bundesliga season with Hannover, making four appearances.  Joined Mexican club Puebla in June.
2009-10: Won another SPL title with Rangers. Left the club when his contract ended at the conclusion of the season.  signed a two-year deal with Hannover 96 in August.
2008-09: Won the Scottish Premier League title and the Scottish Cup with Ranger.
2007-08: Returned late in the season after missing several months due to a knee injury suffered in the Champions League against Stuttgart.  With only a few games left in the season, Beasley saw his first action of '08 on May 19th.  A few days later, he scored and had an assist as Rangers won the Scottish Cup.
2006-07: Was loaned to Manchester City of the English Premier League in late August for one year by PSV Eindhoven.  Though limited in appearances to 18, Beasley scored three goals and helped stabilize City.  It wasn't enough, with manager Stuart Pearce fired and Beasley returned to PSV. Transferred to Rangers.
2005-06: Reprised his starting role with PSV Eindhoven to begin the 05-06 campaign, until a hamstring injury put him out six weeks at the end of the year.
2004-05: Quickly established himself as a consistent goalscorer in Holland and Europe.  Recorded six Eredivisie goals, two Dutch Amstel cup goals, and four European Champions League goals during the 2004 – 2005 season.  Won the Eredivisie National Championship, Dutch Amstel Cup, and advanced to the Champions League semifinals.
2003: Set a career high with seven goals and five assists in leading the Fire to the 2003 MLS Cup final.
2002: Despite missing time due to the World Cup, he scored three goals and four assists in 19 games.
2001: A disappointing season from a team standpoint but a breakthrough year for Beasley, who became the Fire's first-choice left midfielder.  After spending the previous off season working on his two-way play, he proved he was as good at defending as attacking and was named to the Western Conference All-Star Team.
2000: Honored among World Soccer Magazine's 100 Rising International Stars … Traded to the Chicago Fire before ever playing for the Galaxy, he started eleven games and scored six goals in his rookie year with the Fire, featuring in their U.S. Open Cup win.
1999: Bypassed college to enter MLS as a Project-40 player when he was sixteen and was assigned to the Los Angeles Galaxy.