Position: Goalkeeper
Date of Birth: 11/25/1990
Pro Team: DC United
Height: 6'3"
Caps: 8
Shutouts: 3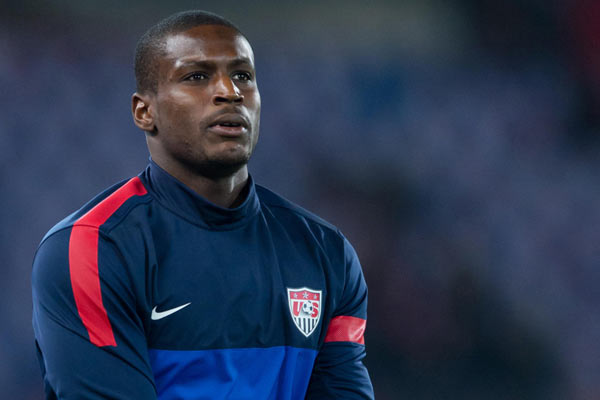 Bill Hamid was DC United's first homegrown player, joining the senior squad in 2009 and getting his first USMNT camp call up in 2011. He played for the USMNT at Under-18, Under-20, and Under-23 level, winning his first cap with the senior squad in 2012, but spending most of 2011 with the USMNT in a backup role.
With DC United, Hamid won the starting job in 2011 and has been the regular in goal ever since. He left MLS for Midtjylland following the 2017 season, returning to DC United on loan in August, 2018.
USMNT Experience
2020: Subbed on in the second-half for the Costa Rica friendly on Feb 1. Started against El Salvador on Dec 9.
2018: Started the Jan 28 friendly against Bosnia and Herzegovina and the Jun 2 friendly against Ireland.
2017: Started against Nicaragua in the Gold Cup on Jul 15. Subbed on for the second-half against Portugal on Nov 14.
2014: Called into the Jan camp. Started against Ireland on Nov 18.
2013: Part of the Gold Cup roster. On the roster for the Nov tour to Europe.
2012: Played against Venezuela on Jan 21 in a 1-0 USMNT win.
2011: Called into his first senior USMNT camp in Aug in advance of the Mexico friendly. Was in the squad but did not play against Costa Rica and Belgium in Sep, Honduras in Oct, and France and Slovenia in Nov.
Professional Experience
2022: Made ten appearances for DC, finishing 14th.
2021: Played in 21 games for United, with an 8th-place finish in the East.
2020: Made 17 appearances with DC, finishing 13th.
2019: DC's starter finishing 5th in the East and exiting the playoffs in the first round. DC made his transfer permanent in December.
2018: Transferred to Nordsjaelland, winning the Danish league. Returned to DC United on loan through the 2019 MLS season. Part of the turnaround at DC United with the club making the playoffs.
2017: Missed the playoffs in his final season with DC United.
2016: Exited the MLS Cup playoffs in the knockout round after finishing 4th in the East.
2015: Made the playoffs with DC.
2014: Won the Eastern Conference, exiting the playoffs in the quarterfinals.
2013: Played in 25 MLS games and won the U.S. Open Cup with D.C. For the second time in three years, spent part of the off season training with West Bromwich Albion.
2012: Played in 24 MLS games with D.C.
2011: Won the starting job with United, playing in 28 regular season games. Trained with West Bromwich Albion in the off season.
2010: Played in 8 MLS games for D.C.
2009: Signed with D.C. United on Sep 2 as the team's first Homegrown Player. Under MLS rules, clubs can sign players they develop without exposing them to a draft. Hamid signed from the D.C. United Academy where he played since 2007.