Position: Forward
Date of Birth: 03/04/1982
Pro Team: Los Angeles Galaxy
Height: 5' 8"
Weight: 148 lbs
Caps: 157
Goals: 57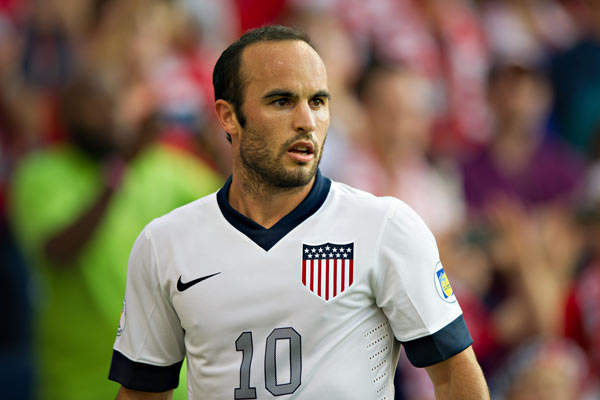 Landon Donovan spent over a decade earning his reputation as one of the best players in USMNT history. lightning quick on the ball and possesses a lethal touch in front of goal. His vision and skill make him one of the most highly-touted players ever to come out of the USMNT youth programs.  He is already the all-time scoring leader for the USMNT, winning the Honda Player of the Year award a record six times.  He was also the Honda Player of the Decade for the 2000's.
Landon Donovan has had more success than any other US youth player at the U-17, U-20, and Olympic levels, and he earned a spot with the USMNT in 2002 World Cup qualifying. In 2002, Donovan cemented himself in the US line-up with six goals in 19 games, including two in the World Cup against Poland and Mexico.
Donovan led the team in appearances and points during 2006 World Cup qualifying, playing in 16 of 18 matches while scoring six goals and registering six assists for 18 points. He recorded a point in 12 of 16 qualifying appearances in the 2006 campaign, an amazing statistic. His three assists in 2006 moved him into first place on the USA's all-time list with 23, then in January 2008 he scored against Sweden to move ahead of  Eric Wynalda to become the all-time leader on the US goal scoring list with 35. Landon Donovan is the youngest player in USMNT history to reach 50 caps.
Donovan's 2010 World Cup added another chapter to his already lengthy resume. He started all four games, scoring against Slovenia, Algeria, and Ghana as the US advanced to the knockout round.  He was named US Soccer Male Athlete of the Year for the fourth time in December, 2010.
Donovan announced during the 2014 MLS season that he planned to retire from professional soccer. He set the all-time MLS assist record in October. In September, 2016 he announced his return to MLS, rejoining the Galaxy for the rest of the season.
"I don't think about the past too often. There's not a lot to gain from that. I think we learned our lesson from that game. We still came away with our heads held high and, most importantly, we now have the confidence that we can beat any team in the world on a given day." from 10 Questions With Landon Donovan
Landon Donovan USMNT Highlights
2014: Started against Korea on Feb 1. Subbed on against Mexico on Apr 2. Named to the provisional World Cup roster. Played his farewell game with the USMNT against Ecuador on Oct 10. Started and captained the USMNT.
2013: Started against Guatemala on Jul 5 and converted a penalty for the 50th goal of his international career before scoring his 51st goal. Started against Belize on Jul 9, converting a penalty for the 6th USA goal. Converted a first-half penalty against Cuba on Jul 13. Started against Costa Rica on Jul 16. Started in the Gold Cup quarterfinal against El Salvador on Jul 21 and scored the fourth goal. Started against Honduras in the semifinal on Jul 24 and scored two goals. Started the final against Panama on Jul 28. Started against Costa Rica on Sep 6. Started against Mexico on Sep 10 and scored. Started against Jamaica on October 11.
2012: Started against Scotland on May 26th and scored a hat-trick.
2011: Started against Argentina on March 26th. Captained the US against Paraguay on March 29th. Scoring in the Gold Cup final against Mexico on June 25th.
2010: Played against Turkey in the Sendoff Series.  Named to the 2010 World Cup roster. Had an outstanding World Cup, scoring in three of the four games including the stoppage time winner against Algeria to advance the USA to the knockout round. Won US Soccer's Athlete of the Year award.
2009: Regular starter for the United States, had three assists in the 2-0 win over Trinidad & Tobago on April 1st.  Converted a penalty against Costa Rica on June 3rd and another against Honduras three days later.  Quality showing in the Confederations Cup, including a goal in the final against Brazil. Score the goal that ended up clinching qualifying for the USA against Honduras.  Named the Honda Player of the Year and Player of the Decade.
2008: Set the National Team scoring record with his 35th goal, a penalty against Sweden on January 19 in Carson, Ca. Set up first goal for Oguchi Onyewu with an overhead cross during 2-2 exhibition tie against Mexico in Houston.
2007: Scored counter-attacking game-clincher against Mexico in 2-0 February exhibition win, then a stunning hat-trick against Ecuador the following month. Played in all six Gold Cup games (five starts), scoring four goals as US took trophy. Leveled Eric Wynalda as all-time US leading goal scorer. Nine goals and four assists in 12 games (11 starts) over the course of the year.
2006: Led the US in appearances by playing in 11 out of 13 games, including all three Group E matches in the 2006 World Cup. Registered three assists.
2005: One of the stars for the US during final round qualifying, he finished with three goals and four assists in eight matches. Scored a pair in the 3-0 win against Costa Rica on June 4 in Salt Lake, then added the middle goal in the 3-0 win against Panama four days later. Scored three goals in the USA's championship run in the 2005 Gold Cup, including a double off the bench on July 7 against Cuba. One of three US players named to the All-Tournament Team.
2004: Became first player to win US Soccer Male Athlete of the Year and Youth Male Athlete of the Year award (2000). Ended the year with the most minutes played (1,243) and games started (14) and tied for the lead in goals scored (5). Named man of the match four times.
2003: Became first player to win Honda U.S. Player of the Year in consecutive years. Led the team in scoring with seven goals and five assists. Tied a US record with four goals in the Gold Cup quarterfinal win over Cuba.
2002: Won Honda U.S. Player of the Year. Started all five games for the US in World Cup, scoring once each against Poland and Mexico, and led the team in shots on goal (7). Started all five games for US in winning the 2002 Gold Cup, and was named to tournament Best XI.
2001: Drew the penalty that led to the game-winning goal against Jamaica that clinched qualification for the 2002 World Cup. Earned his first of three World Cup qualifying starts in the 3-2 loss to Honduras on September 1, 2001, and also appeared as a substitute against Costa Rica on September. Started all four games at the FIFA World Youth Championship in Argentina, leading the US to the second round.
2000: Became the sixth player since 1985 to score a goal in his first appearance with the full US team when he tallied in the 2-0 win over Mexico in Los Angeles on October 25.  Named US Soccer Youth Male Athlete of the Year.
Played in four games at the 2000 Olympics, scoring a goal against Kuwait. Scored two goals with the U-23s in the crucial 4-0 win over Guatemala to earn Olympics berth. Scored nine goals and one assist in 15 games with the U-20 national team, including four goals in eight internationals.
1999: Helped the U-23 team to a bronze medal at the 1999 Pan American Games, appearing in all six matches and starting four.
1999: Scored three goals in the 1999 U-17 World Championship in New Zealand and earned the Golden Ball as the tournament's most valuable player after leading the USA to a fourth-place finish.
Landon Donovan Professional Highlights
2016: Returned to the Galaxy in September.
2014: Won the MLS Cup in his final season with the Galaxy. Announced his retirement following the season.
2013: A regular in a Galaxy side that finished third in the Western Conference.
2012: Donovan returned to Everton for a two month loan from January to February. Won a second-consecutive MLS Cup with the Galaxy.
2011: Won MLS Cup, scoring the game-winner in the final and being named MLS Cup MVP.
2010: Loaned to Everton where he had a strong run of form before returning to the Galaxy.
2009: Loaned to Bayern Munich in the German Bundesliga, Donovan played in six games before returning to the LA Galaxy.  Part of an LA squad that lost the MLS Cup final.
2008: Scoring leader for Major League Soccer with 20 goals and a strong MVP candidate with a Galaxy team that missed the playoffs.
2007: Despite the LA Galaxy's disappointing season, he still lead the team with eight goals and 13 assists. 
2006: Tallied a career-high 12 goals to go with and eight assists, despite missing eight games while with the US National Team at the World Cup in Germany ... Was named to the MLS All-Star Team for the sixth straight season.
2005: Returned to Bayer Leverkusen in January where he saw limited action (9 games).  Decided to return to MLS and make it his permanent home, signing with the LA Galaxy in late March.
2004: Posted six goals and ten assists.  Voted an Earthquakes All-Star for the fourth straight year.
2003: Named MVP after scoring two goals to lead Earthquakes to MLS Cup title. Led Earthquakes in scoring with 12 goals and six assists.
2002: Reached agreement with Bayer Leverkusen to extend MLS loan deal for another two years. Scored seven goals and three assists in 20 games played
2001: Registered seven goals and 10 assists for the San Jose Earthquakes, leading them to their first MLS Cup title. Scored four goals at the 2001 MLS All-Star game in San Jose. Moved from Bayer Leverkusen to San Jose in March 2001 after the two sides worked out a co-sharing agreement.
2000: Played with Leverkusen's reserves alongside fellow US National Team member John Thorrington.
1999: Signed at the age of 16 with German Bundesliga side Bayer Leverkusen.
Youth: A 1999 Parade High School All-American, Landon starred at Redlands East Valley High School, scoring 16 goals in 1998 before joining the US Under-17 team in residency camp in Bradenton, Fla. Credits US U-17 head coach John Ellinger and California head coach Clint Greenwood for making him the player he is today: "Clint taught me almost every technical skill I have today and John turned me into a professional."