Defender
Biography for USMNT soccer player Clarence Goodson, who plays for the San Jose Earthquakes in MLS.
Caps: 46 | Goals: 5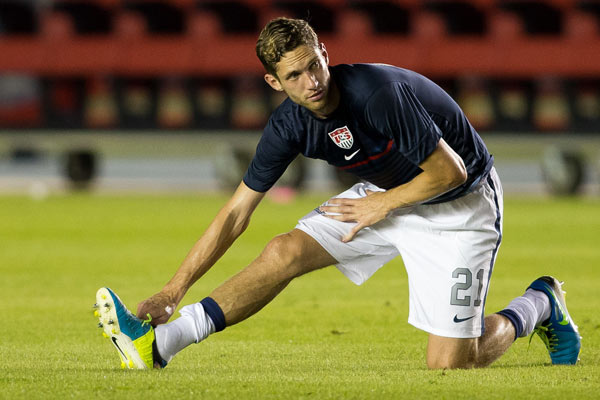 Clarence Goodson worked himself into an important role as a USMNT player. The rangy central defender spent four seasons at FC Dallas, establishing himself as an MLS regular before being picked up by the re-born San Jose Earthquakes in the expansion draft. Before playing a game for San Jose, Goodson opted for Europe instead and landed a contract with Norwegian side IK Start for the 2008 season. He left Start for Brondby in Denmark's SuperLiga, joining the club after the winter break in 2011.
The move coincided with his first USMNT training camp in January, and his debut against Sweden the same month, where he came in as a second half substitute and gave an assured performance to help defend the team's 2-0 lead.  After a strong January camp in 2010, Goodson was named to the provision 2014 World Cup roster. In June of 2013 Goodson joined the San Jose Earthquakes. He retired following the 2015 season.
College: University of Maryland standout, earning All-ACC Second Team honors in senior year.
USMNT Experience
2014
Subbed on in the second-half against Korea on Feb 1 and Mexico on Apr 2. Named to the provisional World Cup roster.
2013
Started against Costa Rica in the Mar 22 World Cup Qualifier and against Guatemala in the Jul 5 friendly scoring the 5th goal of the game. Started against Belize on Jul 9 and Costa Rica on Jul 16. Started in the Gold Cup quarterfinal against El Salvador on Jul 21 and scored. Started the semifinal against Honduras on Jul 24 and the final on Jul 28. Started against Mexico on Sep 10 and Panama on Oct 15.
2011
Named to the Gold Cup squad and scored against Panama on June 11th. Started in the Gold Cup final
2010
Played in the January friendly against Honduras, scoring the only US goal in the 3-1 loss. Played in both Sendoff Series games and was named to the World Cup roster. Started against South Africa on Nov 17th.
2009
Part of the Gold Cup squad. Came in as a second-half sub against Slovakia on Nov 14th and Denmark on the 18th.
2008
Called up for two-week January training camp, capped by his debut against Sweden in 2-0 exhibition won in LA. Goodson came on at half-time for Jimmy Conrad.
Professional Experience
2015
In his final season in pro soccer, played in 28 games with San Jose finishing 7th.
2014
Played in 10 games with San Jose finishing 9th.
2012-13
Resumed his regular role with Brondby. Signed with San Jose in Jun, 2013 playing in 9 games finishing 6th and missing the playoffs.
2011-12
A regular with Brondby, playing in 31 games and finishing in 8th-place.
2010-11
Played in ten games for Brondby in his first season with the club.
2010
Once again the normal choice in Start's back line.  Goodson announced in November that he had signed a deal with Brindby in Denmark's SuperLiga and would join the club in January 2011.  The Norweigan season ends in early November. Signed with Denmark's Brondby.
2009
A regular for Start in a season where they finished 9th.
2008
Played in 22 league games and scored four goals for Start.
2007
A solid regular in the Dallas defense, re-establishing himself at the back under new head coach Steve Morrow, and making 28 starts overall. His two goals included a game winner in the first leg of the Western Conference semi-finals against Houston.
2006
A frustrating season at Dallas, playing just 15 games overall (nine starts).
2005
Breakout season, starting 30 of 31 games overall, and tallying two goals and an assist into the bargain.
2004
First round SuperDraft pick (seventh overall), making just five appearances (two starts) in rookie season.