Defender
Biography of USMNT soccer player Michael Parkhurst who returned to MLS after several seasons in Norway.
Caps: 25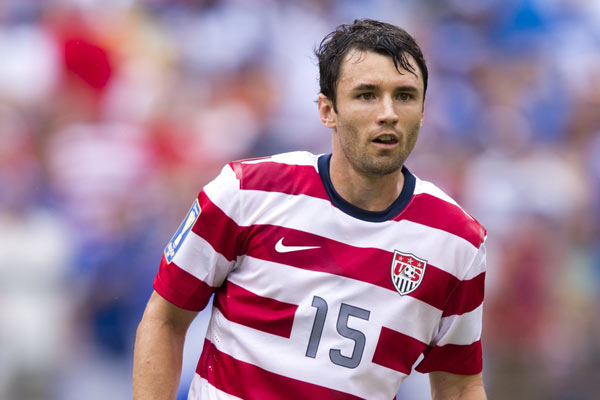 Michael Parkhurst became a featured part of the USMNT by the 2009 Gold Cup. He emerged as a frequent contributor throughout the 2014 World Cup Qualifying campaign and made the provisional World Cup roster.
A strong positional player, an exceptionally consistent performer, and a gifted distributor, Michael Parkhurst's breakout season in MLS came in 2007 when he won the Defender of the Year award, and the MLS Fair Play Award. The two were connected. Parkhurst went through a season where he not only helped his team progress towards the MLS Cup final, but during regular season play he committed just five fouls in 25 games.
He also scored one of the most astonishing goals of the season – a 60-yard shot against Toronto FC that was not only his first career goal, it was his first attempt on goal in three seasons. Oh, and he made his debut for the USMNT as well. All this makes his 2005 Rookie of the Year award pale by comparison.
Parkhurst moved to Nordsjaelland in 2008 just in time for that team's rise in Denmark's topflight.  Parkhurst won the Superliga title with Nordsjaelland in 2012, moving to Augsburg in Germany's Bundesliga in December. After a season and a half with Augsburg, Parkhurst and the club terminated his contract in Jan 2014. He returned to MLS with Columbus and signed with Atlanta in 2017. Parkhurst announced that 2019 would be his final season.
USMNT Experience
2014
Started against Korea on Feb 1 and Mexico on Apr 2. Named to the provisional World Cup roster.
2013
Started against Guatemala on Jul 5, Belize on Jul 9, and Costa Rica on Jul 16. Started in the Gold Cup quarterfinal against El Salvador on Jul 21 and the semifinal against Honduras on Jul 24. Started the final against Panama on Jul 28. Subbed on in the second-half for the World Cup Qualifier against Mexico on Sep 10.
2012
Started the January 21st friendly against Venezuela and the Jan 25th friendly against Panama. Played against Brazil on May 30th and Canada on June 3rd. Started against Jamaica on Sept 7th.
2009
Part of the Gold Cup squad.
2007
Named to the Gold Cup roster where he won his first cap June 9 against Trinidad & Tobago.  His second cap came three days later in 4-0 win over El Salvador.
Professional Experience
2019
Announced on Sep 23 that he would retire at the end of the MLS season.
2018
Won MLS Cup with Atlanta, playing in 33 games for the second season in a row.
2017
Joined the expansion Atlanta United and made the playoffs. An MLS All-Star.
2016
A regular with the Crew, making 34 appearances.
2015
Another strong season in Columbus, playing in 33 games.
2014
Played in 33 games with the Crew and made the All-Star team.
2013
Played two games with Augsburg, signing with Columbus for the 2014 MLS season.
2012
Won the Superliga with Nordsjaelland.  Transferred to Augsburg at the end of the Danish season.
2011
Won his second Danish Cup with FC Nordsjaelland.
2010
Won his first Danish Cup with FC Nordsjaelland.
2008
Left New England at the end of the season to sign with Nordsjælland.
2007
MLS Defender of the Year, Fair Play Award winner, finalist for Goal of the Year.  Committed just five fouls in 25 regular season starts. Blotted his disciplinary copybook with a yellow card in the playoffs as the Revs progressed to MLS Cup, but lost 2-1 to Houston.
2006
- Made 34 regular- and post-season starts as the Revs won the Eastern Conference, but lost MLS Cup to Houston on PKs after 1-1 tie.
2005
Left college early to sign with MLS where he was drafted by the New England Revolution.  Won the Rookie of the Year award.  Played all of the team's 36 regular- and post-season games as they lost MLS Cup to LA by a single goal.