Position: Goalkeeper
Date of Birth: 06/17/1979
College Experience: UCLA
Pro Team: Real Salt Lake
Height: 5' 11"
Weight: 181 lbs
Caps: 22
Shutouts: 5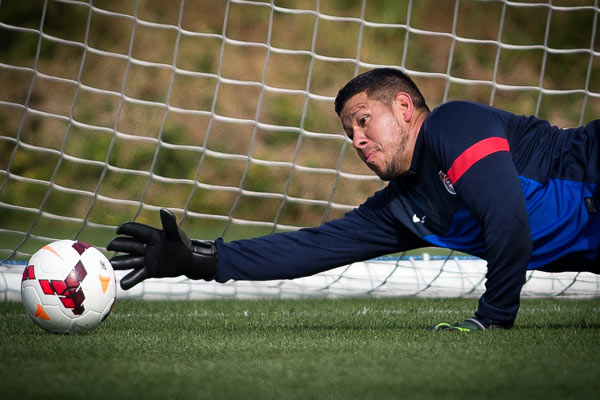 Nick Rimando is a cornerstone of MLS. A Project 40 player, he was picked up by Miami Fusion coach Ray Hudson in the third round of the MLS Superdraft at the start of the 2000 campaign after an outstanding stint at UCLA. Rimando started the majority of Miami's games over the course of his rookie year and emerged as the unopposed first choice in 2001, a season that saw the Miami Fusion finish the MLS regular season with the league's best regular-season record. Nick broke into the USMNT in 2002, the same year he joined DC United after Miami was contracted.
Reunited with Hudson at DC United, and in 2004 was an MLS Cup winner. Although a crowd favorite, he was traded to Real Salt Lake in early 2007. At RSL, Rimando won his second MLS Cup in 2009 and was part of the MLS Cup runners-up squad in 2013. 
Nick Rimando USMNT Experience
2017: Started against Serbia on Jan 27.
2015: Started against Chile on Jan 28 and Panama on Feb 8. Started against Denmark on Mar 25 and Switzerland on Mar 31. Played the first-half against Mexico on Apr 15.
2014: Started against Korea on Feb 1. Started against Mexico on Apr 2. Named to the USMNT 2014 World Cup roster. Subbed on for the second-half in the Sep 3 friendly against the Czech Republic. Started the Oct 14 friendly against Honduras.
2013: Started against Guatemala on Jul 5 and in the Gold Cup for every game except the group stage finale against Costa Rica.
2011: Started the Jan 25th friendly against Panama
2010: Rejoined the USMNT in January and started against El Salvador in February.
2003: Played two games, starting one for  the US.
2002: Earned his first USMNT cap at RFK Stadium combining  for a 2-0 shutout of El Salvador with Tim Howard.
2001: Chosen as a member of  the 2001 USMNT player's pool.
1999: Made 11 appearances for the U.S. under-20 side.  A starter for the US side that competed in the World Youth Championship in Nigeria.
1998: Made 20 appearances with the US  U-20s.
1997: Played with the U-18 squad at the Paolo Valenti Tournament  and the US Soccer Festival.
1995: Was a member of the U-17 squad that  competed in the 1995 U-17 World Championship in Ecuador.
Nick Rimando Professional Experience
2014: Set the MLS shutout record against old club DC United in week 22.
2016: Finished 6th in the West.
2015: Missed the playoffs with RSL.
2014: Advanced to the MLS Cup quarterfinals.
2013: MLS Cup runner-up with RSL, playing in 27 games.
2012: Regular starter with Real Salt Lake.
2011: Led RSL to the CONCACAF Champions League final and was in goal as RSL made the MLS playoffs.
2010: Part of a Real Salt Lake squad that finished undefeated at home.  Challenged for the Western Conference title into the final week of the season but exited in the first round of the playoffs. Nick was considered by many to be a trong candidate for the Goalkeeper of the Year.
2009: Named MLS Cup MVP after stopping the Los Angeles Galaxy in penalties. Started 26 games with a 1.14 goals against average.
2008: Played in all of Real Salt Lake's games. Had a 355-minute shutout streak.
2007: Moved to Real Salt Lake via New York from DC. Made 27 starts for the Utahans, including seven shutouts with a GAA of 1.37 for an ailing Real Salt Lake side.
2006: Made just two starts for DC as Troy Perkins took over as starter.
2005: Played 32 games total for DC, including a dozen shutouts and a regular season GAA of 1.17.
2004: Finished the season with a GAA of 1.00, placing him at the top of United's all-time records. Helped DC United to a League Championship title. Made vital PK save in Eastern Conference final against New England.
2003: Backstopped United to  its first playoff appearance in four years. 27 starts with a GAA of 1.13.
2002: Only DC player to play every minute of the season, logging a league-high 2,588 minutes in his 28 starts with seven shutouts and a GAA of 1.39.  Won Player of the Week award twice.
2001: Named to the MLS all-star team and led the Fusion to the best MLS regular season record in 2001. 31 starts overall, with seven shutouts and a regular season GAA of 1.29.
2000: Recorded a game-winning assist, the first ever assist of any kind for a Fusion goalkeeper in 2-1 win at Colorado. Became the youngest player ever to take the field for the Miami Fusion after they selected him in the MLS Superdraft.
Youth and college: While playing and excelling through four years of high school soccer, Rimando found the time to letter three years as a linebacker and running back for the Montclair High School football team. Played three years at UCLA before joining MLS Project-40.