Position: Forward
Date of Birth: 01/28/1983
College Experience: Chico State
Height: 6' 1"
Caps: 35
Goals: 11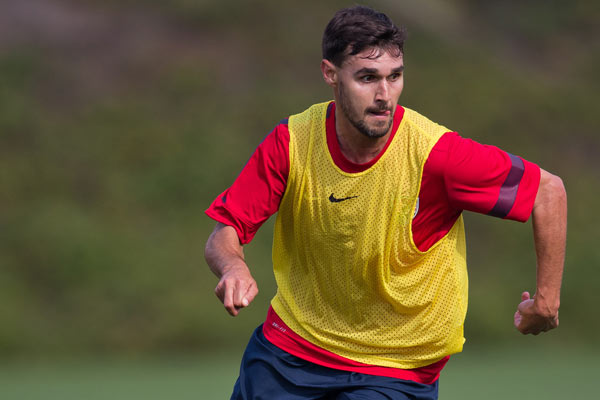 Chris Wondolowski is a USMNT player who broke through the MLS ranks as a member of the San Jose Earthquakes reserve team. It took Wondolowski nearly seven years before he emerged as one of the most-prolific scorers in the league. From 2006 to 2008, Wondolowski played for the Houston Dynamo.
In 2010, a year after he returned to the Quakes, Wondolowski had his breakout year. He won the Golden Boot after scoring 18 goals. The tally led to a National Team call up. Wondolowski was brought into January camp in 2011 and he made his National Team debut in a friendly against Chile. Wondolowski scored 16 goals in the 2011 season, upping that number to an MLS record-tying 27 in 2012. He scored his first goal with the senior squad in 2013. Wondolowski became the all-time MLS leading scorer on May 18, 2019. He announced his retirement at the end of the 2021 season, becoming a special assistant with the Earthquakes.
Chris Wondolowski USMNT Highlights
2016: Subbed on against Bolivia on May 28. Subbed on against Costa Rica in the Copa Centenario on Jun 7. Started against Argentina in the semifinals on Jun 21. Subbed on against Cuba on Oct 7 and scored.
2015: Subbed on in the second-half against Chile on Jan 28 and against Panama on Feb 8. Subbed on against Guatemala on Jul 3 and scored. Subbed on against Honduras in the Group A opener at the 2015 Gold Cup on Jul 7. Started against Panama on Jul 13 and again against Panama in the 3rd-place game on Jul 25.
2014: Started against Korea on Feb 1 and scored two goals. Started against Mexico on Apr 2 and scored. Named to the final USMNT World Cup roster. Started against Azerbaijan on May 28th. Subbed on against Nigeria on June 8th. Subbed on against Portugal in the World Cup on June 22nd and against Belgium on July 1st. Subbed on in the second-half against Ecuador on Oct 10. Started against Ireland on Nov 18.
2013: Started against Guatemala on Jul 5 and scored his first international goal. Started against Belize on Jul 9 and scored a hat-trick. Subbed on in the second-half for the USMNT against Cuba on Jul 13 and scored two goals. Started against Costa Rica on Jul 16. Started in the Gold Cup quarterfinal against El Salvador on Jul 21. Subbed on in the second-half against Honduras on Jul 24. Subbed on against Scotland on Nov 15 and Austria on Nov 19.
2012: Subbed on in the Jan 21st game against Venezuela. Started against Panama on Jan 25th. Played against Canada on June 3rd.
2011: Earned his first cap for the USMNT in January during a friendly against Chile and played in the Gold Cup with the USA finishing runners-up.
Chris Wondolowski Professional Highlights
2021: Finished 8th-place with San Jose in his final season in MLS. Retired with the all-time goals record at 171 scoring in his final game.
2020: In what was planned as his final season, finished 8th with the Earthquakes advancing to the postseason. Opted to rejoin the club for 2021.
2019: Set the all-time goals scored record on May 18.
2018: Another season playing in all 34 games for San Jose, scoring 10 times and making the playoffs.
2017: In the lineup for all 34 regular season games scoring 13 goals. Made the playoffs and scored a goal.
2016: Played in 30 games scoring 12 goals for San Jose.
2015: Scored 16 goals in 31 appearances for San Jose.
2014: Finished out of the playoffs with the Earthquakes.
2013: Played in 29 games for the San Jose Earthquakes scoring 11 goals.
2012: Won the MLS Golden Boot by tying the all-time single season goal scoring record in MLS with 27.
2011: Scored 16 goals for San Jose. Named MLS Castrol Player Index of the Year.
2010: Won the Golden Boot as MLS top scorer with 18 goals.
2009: Returned to the San Jose Earthquakes.
2008: Made eight appearances in his final season with the Houston Dynamo.
2007: Appeared in 16 games and scored a goal with Houston.
2006: Moved with the team when it became the Houston Dynamo. Scored his first MLS goal in 2-2 tie against Chicago.
2005: San Jose Earthquakes' leading scorer in reserve league. Appeared in two MLS games for first team.