Goalkeeper
Biography of USMNT soccer player Tim Howard who left MLS for Manchester United and became the #1 goalkeeper for the USMNT.
Caps: 121 | Shutouts: 37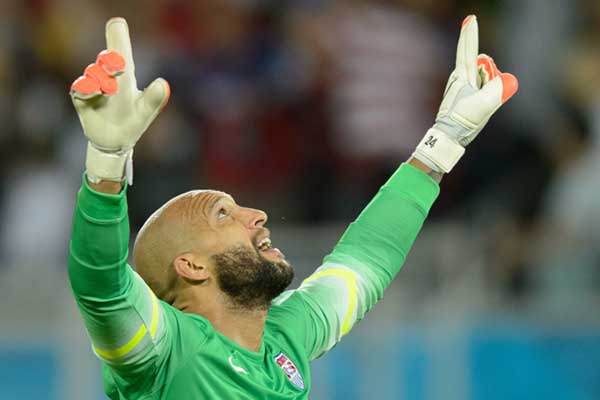 Tim Howard emerged as the heir to the legacy of Kasey Keller and Brad Friedel as USMNT goalkeepers who have made their mark in England.  As exciting as a goalkeeper can be, Tim was named a 2001 MLS All-Star on the strength of some scintillating shot-stopping between the posts.  After kicking off his MLS career as a reserve with his hometown MetroStars as a Project-40 allocation, Howard emerged as the hands-down starter by 2001. In a three-year-span he emerged as the finest goalkeeper in Major League Soccer, which caught the eyes of scouts at Manchester United.
His move to Manchester United in the summer of 2003 was a major story around the world, and only grew as he went on to lead his side to Charity Shield and FA Cup titles.  Along the way, his standout performances earned him Goalkeeper of the Year honors in the English Premier League.
After on-and-off duty for Sir Alex Ferguson during the 2004-05 and 2005-06 seasons, Howard moved to Everton FC on a season-long loan deal in the spring of 2006.  Midway through the 2006-07 season, Howard earned a permanent transfer to Everton and signed a five-year deal through 2012.  Stayed as Everton's regular number one through the 2015-16 Premier League season, Howard joined the Colorado Rapids during the 2016 summer transfer window. Howard announced his retirement from MLS following the 2019 season, but returned with second division Memphis for 2020. Howard is part owner of the USL Championship club.
USMNT Experience
2017
Started the Mar 24 qualifier against Honduras and against Panama in the WCQ on Mar 28. Started in the friendly against Venezuela on Jun 3. Started the World Cup qualifier against Trinidad & Tobago on Jun 8. Started against El Salvador in the quarterfinals on Jul 19. Started the Jul 22 semifinal against Costa Rica and the final against Jamaica on Jul 26. In the starting lineup for the Sep 1 qualifier against Costa Rica. Started the World Cup qualifier against Panama on Oct 6 and against Trinidad & Tobago on Oct 10.

2016
Started the World Cup qualifier against Guatemala on March 25, 2016. Played the second-half against Puerto Rico on May 22. Started against Colombia in the 3rd-place game on Jun 25. Started against Trinidad & Tobago on Sep 6. Started against Mexico on Nov 11.

2015
Started against Costa Rica on Oct 13 and against Trinidad & Tobago on Nov 18. Named CONCACAF goalkeeper of the year.

2014
Started against Ukraine on Mar 5th. Named to the final World Cup roster. Started against Azerbaijan on May 28th and Turkey on June 1st. Earned his 100th cap against Nigeria on June 8th. Started against Ghana in the World Cup Group G opener on June 16th. Started against Portugal in the World Cup on June 22nd and against Germany on June 26th. Started against Belgium in the Round of 16 on July 1st. Howard won the 2014 US Soccer Male Athlete of the Year and the Futbol de Primera awards. 

2013
Started against Honduras on Feb 6th. In goal for the two May/June friendlies against Belgium and Germany. Started against Jamaica in the Jun 7 World Cup Qualifier and against Panama on Jun 11. Started against Bosnia and Herzegovina on Aug 14th. Started against Costa Rica on Sep 6 and Mexico on Sep 10. Started against Jamaica on October 11. In goal against Scotland on Nov 15 and Austria on Nov 19.

2012
Started against Italy on Feb 29th and recorded the shutout in the 1-0 win. Started against Scotland on May 26th. Recorded a shutout in the USA's first win over Mexico at Azteca Stadium on Aug 15th. Shutout Jamaica on Sept 11th.

2011
Started against Argentina on March 26th and against World #1 Spain on June 4th. Started every game of the 2011 Gold Cup.

2010
Named to the World Cup roster and started all four of the USA's games in South Africa.

2009
Got the shutout in the 2-0 Qualifying win over Mexico on Feb 11th.  Started in the June 3rd and 6th World Cup Qualifiers. Won the Golden Glove for his standout performance in the Confederations Cup.

2008
Played the full 90 in an excellent performance against Mexico in 2-2 exhibition tie.

2007
Alternated with Kasey Keller at Gold Cup, starting and playing through the final win against Mexico. Played through exhibition game against Brazil in September, his ninth cap of the year.

2006
Picked up two caps, both in exhibition games. Made trip to World Cup in Germany 06, but did not play.

2005
Got his sixth career shutout in the USA's final match in 2006 World Cup qualifying, the 2-0 win against Panama on Oct. 12 in Foxboro, when he wore the captain's armband.

2004
Made three appearances.  Earned first World Cup Qualifying cap against El Salvador on September 4, a shutout.

2003
Went 2-3-2 with two shutouts in seven games, allowing just five goals.

2002
Played three times for the National Team and earned first cap in 1-0 shutout of Ecuador in March.

2000
Was a member of the US Olympic team in Sydney Australia that took fourth place overall.

1999
Started three matches for the US U-20 side at the 1999 World Youth Championship in Nigeria.  Tended goal for the US U-23s at the Pan Am games in Winnipeg, Canada.
Professional Experience
2020
Announced he would play for Memphis in the USL Championship.

2019
Announced that this would be his final season in pro soccer, finishing in 9th-place in the West.

2018
33 games for Colorado finishing in 11th-place and exiting the Concacaf Champions League in the first round.

2017
Made 25 appearances with the Rapids, finishing 10th.

2015-16
Announced in March 2016 that he would be joining the Colorado Rapids during the summer. Finished 11th with Everton. Made the playoffs with the Rapids.

2014-15
Played in 32 games with Everton finishing 11th in the Premier League.

2013-14
Finished 5th with Everton in the Premier League. Signed a new contract.

2012-13
Just missed setting Everton's consecutive appearance record due to a late season injury. Everton finished 6th in the Premier League.

2011-12
Everton's #1, finished 7th.

2010-11
Facing competition for the starting spot at Everton, Tim held onto the gloves and continued to turn in a string of solid performances.

2009-10
Regular starter with Everton, finishing 8th.

2008-09
Became the youngest Everton keeper to reach 100 caps, leading the club to a Europa Cup spot and a day out at Wembley in the FA Cup Final loss to Chelsea.

2007-08
Made strong start to the new season, with Everton challenging for a place in the Premier League top five. Allowed just 16 goals in the team's first 14 games.

2006-07
Made a move to Everton FC on loan from Manchester United, which became permanent in February '07. Made 38 appearances as Everton finished sixth, qualifying for the UEFA Cup.

2005-06
Deputized to Dutch international Edwin van der Sar for much of the 2005-06 season, his first team appearances mainly limited to domestic cup competitions.

2004-05
Played first nine games with Manchester United, but saw only sporadic action throughout the remainder of the season.

2003-04
In only his first season with one of Europe's biggest clubs, he won the Charity Shield and FA Cup, and was named Goalkeeper of the Year in England.

2003
Signed four-year contract with Manchester United of the English Premier League.  Was 6-3-4 in 13 games with the MetroStars, with 1.33 GAA and three shutouts.

2002
Trained with Dutch club Feyenoord for two weeks after season.  Won 11 of 27 games with a 1.61 GAA for MetroStars.

2001
Named MLS Aquafina Goalkeeper of the Year as well as NY Life's Humanitarian of the Year for his work with charities supporting Tourette Syndrome.

2001
Was named an MLS All-Star for the 2001 season after earning the full-time starting job with the MetroStars.

2000
In a breakout season, Howard played 794 minutes, recorded nine starts and logged an impressive 1.59 goals against average.

1998
Signed with NY/NJ Metrostars in MLS.  After spending most of the year as a backup, made his first MLS appearance on August 18 in a 4-1 win over the Colorado Rapids.

1997
Joined the USISL's North Jersey Imperials.