Position: Goalkeeper
Date of Birth: 06/24/1994
College Experience: Fairfield University
Pro Team: New England Revolution
Height: 6'3"
Weight: 175
Caps: 11
Shutouts: 8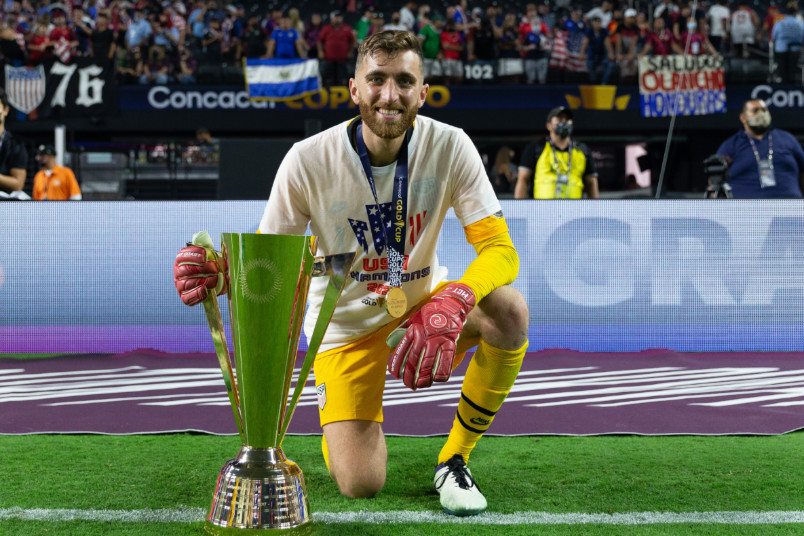 Matt Turner pushed himself into contention with the USMNT over the summer of 2021. Already an established presence in MLS as the starting goalkeeper for the New England Revolution, Turner won the MVP award at the 2021 MLS All-Star Game. His strong summer continued into September World Cup qualifying. All of this is happening to a player not selected in the 2016 MLS SuperDraft and a late convert to focusing solely on soccer. Able to play for Lithuania, Turner became cap-tied to the United States during the 2021 Gold Cup.
USMNT Experience
2021: Debuted for the USMNT on Jan 31 against Trinidad & Tobago. Started every game during the Gold Cup, winning Best Goalkeeper. Started all three of the September World Cup qualifiers. Started against Jamaica on Oct 7. Started against Panama on Oct 10.
Professional Experience
2021: Named MLS All-Star MVP.
2020: Advanced to the conference semifinals with New England.
2019: Made the playoffs with the Revs, finishing 7th and exiting in round one.
2018: First season as a regular with New England, finishing in 8th-place and missing the playoffs.
2017: A member of the Richmond Kickers
2016: Signed with New England, moving on loan to the Richmond Kickers.
Youth and College: Played for Fairfield University and Jersey Express.
Photo by John Dorton – ISIPhotos.com