Position: Goalkeeper
Date of Birth: 06/24/1994
College Experience: Fairfield University
Pro Team: Arsenal
Height: 6'3"
Caps: 25
Shutouts: 12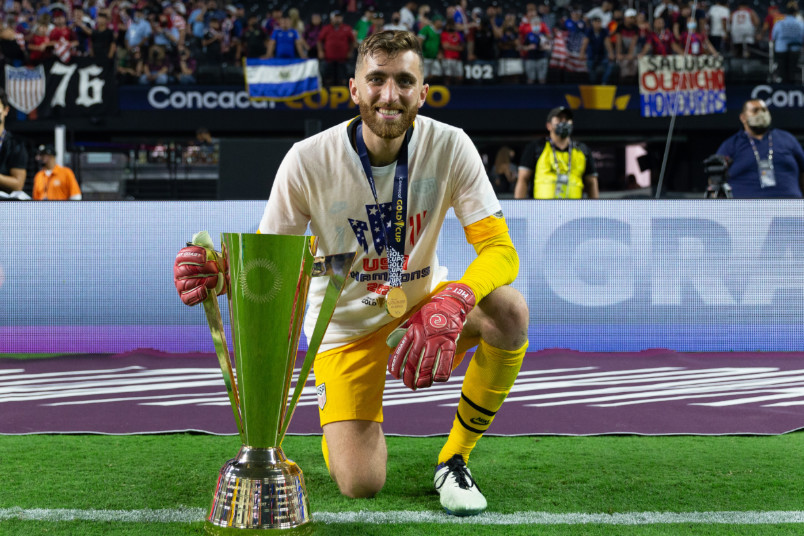 Matt Turner pushed himself into contention with the USMNT over the summer of 2021. Already an established presence in MLS as the starting goalkeeper for the New England Revolution, Turner won the MVP award at the 2021 MLS All-Star Game. His strong summer continued into September World Cup qualifying. All of this is happening to a player not selected in the 2016 MLS SuperDraft and a late convert to focusing solely on soccer. Able to play for Lithuania, Turner became cap-tied to the United States during the 2021 Gold Cup. He joined Arsenal from New England on June 27, 2022.
USMNT Experience
2023: Started in the Nations League game at Grenada on Mar 24 and against El Salvador on Mar 27.
2022: Started in the World Cup qualifier against El Salvador on Jan 27, Canada on Jan 30, and Honduras on Feb 2. Started against Morocco on Jun 1 and against Grenada in the Nations League on Jun 10. Started against Japan on Sep 23 and Saudi Arabia on Sep 27. Named to the World Cup squad on Nov 9. Started against Wales on Nov 21, England on Nov 25, and Iran on Nov 29 in group B. Started against the Netherlands in the round of 16 on Dec 3.
2021: Debuted for the USMNT on Jan 31 against Trinidad & Tobago. Started every game during the Gold Cup, winning Best Goalkeeper. Started all three of the September World Cup qualifiers. Started against Jamaica on Oct 7. Started against Panama on Oct 10 and Bosnia and Herzegovina on Dec 18.
Professional Experience
2022-23: Played in five Europa League games with Arsenal, finishing 2nd in the Premier League.
2022: Announced a move to Arsenal in Feb, starting the MLS season with New England and officially completing the transfer on Jun 27.
2021: Named MLS All-Star MVP, MLS Best XI, and won MLS Goalkeeper of the Year. Part of a Revs team that set the new regular season points record winning the Supporters' Shield. Exited the playoffs at the semifinal stage.
2020: Advanced to the conference semifinals with New England.
2019: Made the playoffs with the Revs, finishing 7th and exiting in round one.
2018: First season as a regular with New England, finishing in 8th-place and missing the playoffs.
2017: A member of the Richmond Kickers
2016: Signed with New England, moving on loan to the Richmond Kickers.
Youth and College: Played for Fairfield University and Jersey Express.