Midfielder
The biography of USMNT soccer player Dax McCarty who plays his club soccer for Nashville in MLS.
Caps: 13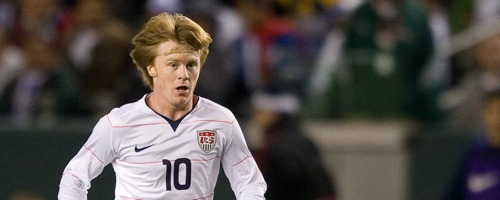 A 2008 Olympian and a member of the 2007 Under-2 World Cup squad, Dax was part of a core group of young college players at FC Dallas.  He was on the losing end of the 2010 MLS Cup before being left unprotected in the expansion draft a day later.  Picked first overall by Portland, Dax was traded that day to DC United. He joined New York midway through the 2011 season and has turned into a regular with the club. Dax made the move to Chicago and a return to the USMNT in 2017. Nashville selected him in the 2020 expansion draft.
College:  Two years with the University of North Carolina, where he was a second-team All American as a sophomore. 
USMNT Experience
2017
Started against Jamaica on Feb 3 and Ghana on Jul 1. Started against Panama on Jul 8 in the Gold Cup opener. Subbed on against Martinique on Jul 12. Started against Nicaragua on Jul 15. Subbed on against Costa Rica in the semifinals on Jul 22 and against Jamaica in the final on Jul 26. Subbed on against Panama in the Oct 6 World Cup qualifier.

2010
Played against El Salvador on Feb 24th.

2009
Won his first cap against Slovakia on November 14th.
Professional Experience
2022
29 regular season appearances for Nashville, finishing 5th and exiting the playoffs in the opening round.
2021
A 3rd-place finish with Nashville and another trip to the Eastern Conference quarterfinals, playing in 28 games.
2020
Joined expansion club Nashville, playing in 21 games, finishing 7th in the East, and advancing to the conference quarterfinals.
2019
Missed the playoffs with Chicago, finishing 8th. Picked by Nashville in November's expansion draft.

2018
Finished 10th with the Fire.

2017
Traded to Chicago in January, helping them to a 3rd-place finish. Exited the playoffs in the knockout round.

2016
Another Eastern Conference title with New York, exiting the playoffs in the quarterfinals.

2015
Won the Supporters' Shield and advanced to the semifinals of the playoffs with New York.

2014
Finished 4th in the East, advancing to the semifinals.

2013
Played in 30 games for the Red Bulls, starting 29 in an Eastern Conference winning season.

2012
Started in all 33 games with the Red Bulls.

2011
Started the season with D.C. United playing in 13 games. Traded to New York on June 27th, playing in 16 games. 

2010
Part of the FC Dallas squad that was MLS Cup runners-up. Picked by Portland in the expansion draft and then traded to DC United.

2009
Played in 28 games, starting 27 and scoring three goals for a Dallas team that just missed the playoffs.

2008
Played in 17 games, starting eight.

2007
Club assist leader with seven as he emerged as a regular with Dallas.

2006
Joined FC Dallas as their sixth overall SuperDraft pick. Regular with the reserve team.