Position: Defender
Date of Birth: 10/05/1987
College Experience: St Louis
Pro Team: Fulham
Height: 6' 1"
Weight: 185 lbs
Caps: 26
Goals: 1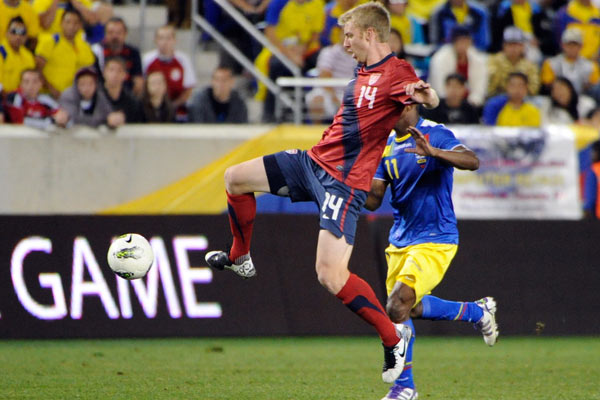 Tim Ream attended St. Louis University and was drafted in the second round and 18th overall in the 2010 MLS SuperDraft by the New York Red Bulls. He went on to start in all 30 regular-season games for the Red Bulls and a finalist for MLS Rookie of the Year honors. During Ream's second season, he played and started in 28 of 34 matches for the Red Bulls during the regular season, missing six games largely because of US call-ups during the 2011 Gold Cup. 
Tim left MLS for Europe for the second-half of the 2011-12 season, signing with Bolton. Ream became a regular in the lineup winning back-to-back team player of the year honors. In August, 2015 he transferred to Fulham.
USMNT Highlights
2017: Subbed on against Honduras in World Cup qualifying on Mar 24 and against Panama in the WCQ on Mar 28. Subbed on against Venezuela on Jun 3. In the starting lineup for the Sep 1 qualifier against Costa Rica.
2016: Started against Puerto Rico on May 22 and scored his first goal for the USMNT. Started against Mexico on Jun 11.
2015: Subbed on in the second-half against Switzerland on Mar 31 and against Guatemala on Jul 3. Started the second game of the Gold Cup group stage against Haiti on Jul 10 and against Panama in the 3rd-place game on Jul 25. Started the Sep 5 friendly against Peru and the Sep 8 friendly against Brazil. Started against Costa Rica on Oct 13. Started the World Cup qualifier against St Vincent and the Grenadines on Nov 13 and against Trinidad & Tobago on Nov 18.
2014: Subbed on for the second-half in the Sep 3 friendly against the Czech Republic and again against Honduras on Oct 14. Subbed on in the second-half against Ireland on Nov 18.
2011: Named to 2011 Gold Cup team.
2010: Made US debut in November, 2010 in a friendly against South Africa.
Professional Highlights
2017-18: Advanced to the final of the Championship playoffs after finishing 3rd.
2016-17: Made the Championship playoffs with Fulham, finishing 6th.
2015-16: Transferred to Fulham in August finishing 20th.
2014-15: Another standout season for Bolton in the Championship, once again named player of the season. Bolton finished 18th.
2013-14: Played in 42 games after establishing himself as the regular left back for Bolton. Named Bolton's player of the season. Finished 14th in the Championship.
2012-13: Stayed a regular in Bolton's starting lineup for a club that finished 7th in he Championship.
2011-12: A regular in the lineup for the Red Bulls. Completed a transfer to Bolton midway through the Premier League season where he quickly established himself as a regular.
2010: Played in every game for the New York Red Bulls, making 30 appearances. Named a finalist for the MLS Rookie of the Year award and voted the club's Defender of the Year.