Position: Defender
Date of Birth: 03/04/2007
College Experience: UCLA
Height: 5' 11"
Weight: 169 lbs
Caps: 36
Goals: 1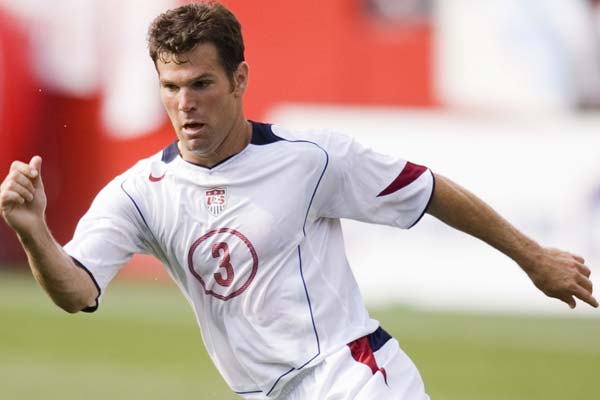 Greg Vanney was an MLS original and a free kick specialist with a powerful and accurate left foot. Vanney showed the versatility to play on either the left side of the defensive line, with the Galaxy, or in the center, where he played for the USMNT and DC United.
Vanney's pro career was born with Major League Soccer in 1996, and he put in six solid seasons with LA before landing a contract in France with Bastia. In 2005 he returned to MLS to play for FC Dallas, then in 2007 was traded to the Rapids. Mid-season he was on the move again in a swap deal with DC United for Argentine defender Facundo Erpen.  At the start of 2008 he was on the move again, back to LA in exchange for young forward Quavas Kirk.  He retired at the end of the season.  In January, 2011, he was named assistant coach of Chivas USA. Vanney moved to Toronto FC and a role as assistant general manager in December, 2013. On August 31, 2014 he took over as coach of Toronto FC. Vanney left Toronto at the end of the 2020 season, taking the LA Galaxy job in January, 2021.
USMNT Experience
2005: Made five starts, including three Gold Cup appearances, one of whoch was the final victory on PKs over Panama. Also played in WC qualifier in Guatemala, his last agme for the US to date.
2004: Played six games and scored his  first international goal, in a World Cup Qualifier (against Grenada on June  13).
2003: Played eight games, starting seven of them. Added three assists. Four of those games were in the Gold Cup and one was in the Confederations Cup.
2002: Played three games, starting twice.  Missed out on World Cup due to injury.
2001: Earned five  caps in 2001, helping the US qualify for the 2002 World Cup.
2000: Played  in six matches with the USA and started five.
1999: Made one appearance for  the USMNT for the fourth straight year, a 2-2 draw with Jamaica in  Kingston.
1998: Started and played 90 minutes in a loss to Paraguay on March 14.
1997: Made his second appearance in a USA uniform on August 7 in Baltimore in a 1-0 loss to Ecuador.
1996: Replaced Eddie Pope in a key World Cup qualifying match against Guatemala on December 12 for his first cap. Helped the USMNT secure a 2-2 draw.
Professional Experience
2008: Traded back to LA Galaxy by DC in exchange for forward Quavas Kirk.  Retired at the end of the season.
2007: Traded to Colorado but played just nine times before moving on to DC, where he helped them win the Supporters Shield.
2006: Made 30 starts overall for Dallas. Tallied a goal and four assists.
2005: Returned to MLS, signing with FC  Dallas early in the year. Made 27 starts overall (two assists).
2004-05: Regained a starting role with Bastia (France First Division) in September 2004, and played 16 of 19 matches before the winter break.
2003-04: In his first full season abroad, played 20 games for  the Corsica-based club.
2002-03: Moved to France after 2002 MLS season and  played in 11 games for Bastia.
2001: Started 28 matches overall for the Galaxy and registered six goals and four assists in helping the team reach the MLS Cup final.
2000: Found his scoring touch, netting six goals in 27 games for  Los Angeles. He also scored once in the MLS playoffs.
1999: Helped the Galaxy to  the MLS Cup final and scored two goals in the playoffs.
1998: Scored three  goals and added three assists in 31 matches for the Galaxy.
1997: Played 30 games (29 starts) for the Galaxy, recording a goal and three assists.
1996: Drafted by the LA Galaxy in the second round with the 17th overall pick of the Major League Soccer draft. He scored six goals and assisted on one other in 35 games (30 starts) in his rookie year. Two of his goals were in back-to-back games against the Kansas City Wizards in the Western Conference playoffs.
College: Attended Florida International University in 1992 before transferring to UCLA. He was an honorable mention All-American at UCLA in 1995, and he scored the game-winner and assisted on the game-tying goal against SMU in the 1994 NCAA round of 16 despite playing just the final 10 minutes of the match.