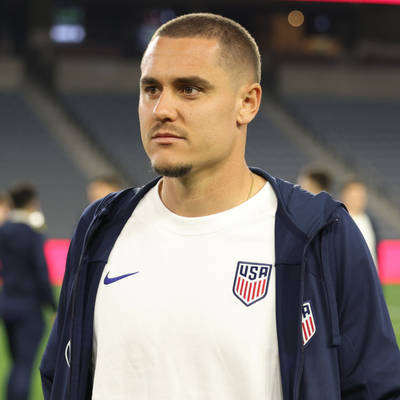 Defender
Bio of USMNT player Aaron Long who plays his club soccer for LAFC in MLS.
Caps: 35 | Goals: 3
Aaron Long is proof that it's still possible for American soccer to miss on a talented player. Long seemed destined to spend his pro career in the second division with occasional glimpses at MLS. That changed after winning the USL Defender of the Year award in 2016 and benefiting from an injury crisis at the Red Bulls the following season. Long won the MLS Defender of the Year award in 2018, showing he is a top level defender.
Long got his first look with the USMNT in 2018, becoming a first choice defender during the summer of 2019. A member of the Gold Cup squad, Long has shown he belongs at international level.
03:11
USMNT Experience
2023
Subbed on against Serbia on Jan 25 and started against Colombia on Jan 28. Started against Mexico on April 19. Started the Jun 24 Gold Cup game against Jamaica. Subbed on against Canada on Jul 9 and started against Panama in the semifinals on Jul 12.
2022
Subbed on against Mexico on Mar 24 and Panama on Mar 27. Started against Morocco on Jun 1 and Uruguay on Jun 5. Started against Grenada in the Nations League on Jun 10 and El Salvador on Jun 14. Started against Japan on Sep 23 and Saudi Arabia on Sep 27. Named to the World Cup squad on Nov 9.
2021
Started against Trinidad & Tobago on Jan 31 picking up an assist. Started against Jamaica on Mar 25 and Northern Ireland on Mar 28.
2020
Started the Feb 1 friendly against Costa Rica. Started against El Salvador on Dec 9.
2019
Part of January camp and called into the Gold Cup squad. Played in the warm-up friendlies against Jamaica on Jun 5 and Venezuela on Jun 9. Started the Gold Cup group stage games against Guyana on Jun 18 and Trinidad and Tobago on Jun 22 scoring twice. Started the quarterfinal against Curacao on Jun 30 and Jamaica on Jul 3. Started against Mexico in the 2019 Gold Cup final. Started against Mexico on Sep 6 and Uruguay on Sep 10. Started against Canada in the Nations League on Oct 15. Scored in another start against Canada on Nov 15. Started against Cuba on Nov 19.
2018
Won his first cap on Oct 16 against Peru.
Professional Experience
2023
Joined LAFC in January as a free agent.
2022
Played in 29 games and scored for goals for the 6th-place Red Bulls, exiting the playoffs in the opening round.
2021
Only played five games with the Red Bulls due to injury. New York finished 7th in the East, exiting the playoffs in the first round.
2020
Finished 6th in the East and exited in the first round of the playoffs with the Red Bulls.
2019
Finished 6th in the East with New York.
2018
MLS Defender of the Year with the Red Bulls playing in 34 league games and scoring three goals for the Supporters' Shield winners.
2017
Moved to the Red Bulls where he played in 31 games.
2016
Joined Red Bulls II winning the USL Cup and named Defender of the Year.
2015
Played in 27 games for Seattle Sounders II in USL
2014
Drafted by Portland 36th overall and appeared for Sacramento FC and the Orange County Blues. Joined the Seattle Sounders in July.
Youth and College
Played for Serrano High and spent four seasons with UC Riverside.