Forward
The biography of USMNT soccer player Terrence Boyd who plays his club soccer for Kaiserslautern in the 2.Bundesliga.
Caps: 14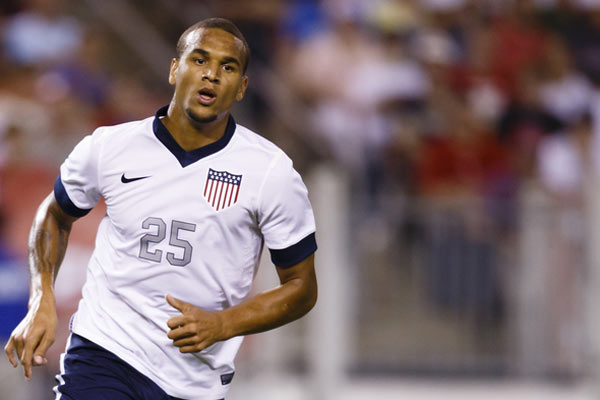 Terrence Boyd made his first appearance with the USMNT before he had cracked the senior squad for his club. With Borussia Dortmund on their way to a Bundesliga title, Boyd moved to Rapid Vienna at the end of the 2011-12 season where he instantly made an impact. A player with a ton of upside, Boyd brings a strong attacking mentality to the USMNT. Boyd moved from the Austrian Bundesliga to the German Bundesliga in July, 2014, signing with RB Leipzig. Boyd missed most of two seasons with ACL injuries, returning for the USMNT in October, 2016. He moved to Bundesliga club Darmstadt in January, 2017. In February, 2019 he moved to MLS with Toronto FC. Boyd left the club for Hallescher in the 3.Liga in July 2019. He moved to Kaiserslautern in January 2022.
USMNT Experience
2016
Subbed on against New Zealand on Oct 11.
2014
Named to the provisional World Cup roster.
2013
Subbed on in the Jun 2nd friendly against Germany and in the second-half in the World Cup Qualifier against Panama on Oct 15. Subbed on against Scotland on Nov 15 and Austria on Nov 19.
2012
After appearing for the USA's Under-20 and Under-23 squads, Boyd won his first senior cap against Italy on Feb 29th and got his first start against Scotland on May 26th.  Played in the June 8th World Cup Qualifier against Antigua & Barbuda. He also was part of the USA's Olympic team in qualifying. Subbed on in the second-half against Jamaica on Sept 7th.
Professional Experience
2022-23
Played in 33 games and scored 13 goals for Kaiserslautern, finishing 9th in the 2.Bundesliga.
2021-22
Spent the first half of the 3.Liga season with Hallescher, transferring to Kaiserslautern in January 2022. Won promotion to the 2.Bundesliga.
2020-21
The regular forward at the top of Hallescher's formation, finishing 9th.
2019-20
Joined Hallescher FC in Germany's 3.Liga on July 29, 2019. Finished 15th.
2018-19
Spent the first half of the season with Darmstadt before completing a move to MLS with Toronto FC. 2017-18: Finished 10th with Darmstadt in the 2.Bundesliga.
2016-17
Recovered from injury, transferred to Darmstadt during the January window. Darmstadt finished in 18th-place and dropped to the 2.Bundesliga.
2015-16
Missed the entire season with RB Leipzig finishing 2nd and winning promotion to the Bundesliga.
2014-15
Signed with Red Bull Leipzig in the German 2.Bundesliga. An ACL injury cut short his season with RB Leipzig, playing in seven games and scoring twice. The club finished 5th.
2014-14
Played in 29 games for Rapid Vienna, scoring 15 goals.
2012-13
Signed with Rapid Vienna in Austria's Bundesliga where he became an immediate starter. Scored 13 goals in 30 games for Rapid, finishing 3rd.
2010-11
After starting his career as a member of Hertha BSC, Boyd played 32 times and scored 20 goals for Borussia Dortmund's reserves.