Position: Midfielder
Date of Birth: 10/22/2000
Pro Team: Leeds United
Height: 5'10"
Caps: 28
Goals: 6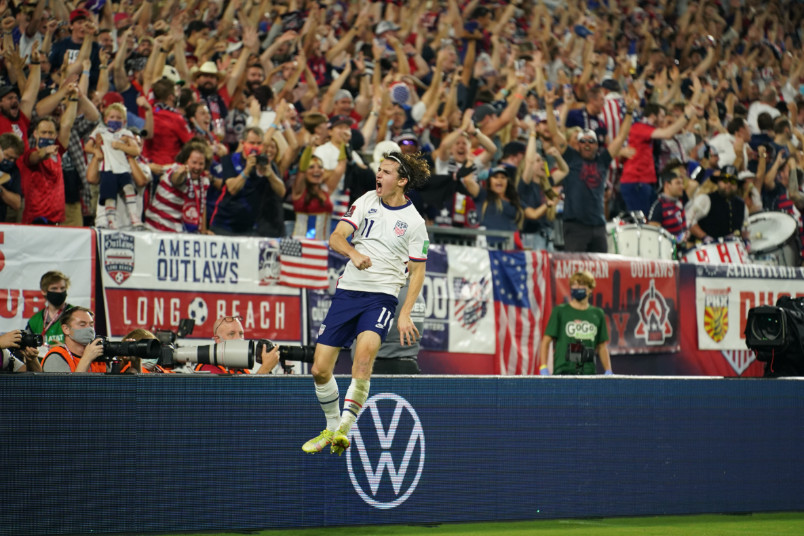 Brenden Aaronson is a proud product of the American soccer system, coming through the Philadelphia Union academy and claiming a spot on the US National Team. A high profile move from Philadelphia to Red Bull Salzburg during the January 2021 window means Champions League soccer and the next step in the career of a young player. Aaronson quickly made himself crucial for club and country, scoring five goals for the USMNT in his first ten games. After back-to-back doubled with Red Bull Salzburg, Aaronson moved to the Premier League with Leeds United for the 2022-23 season.
USMNT Experience
2022: Subbed on against El Salvador on Jan 27 and started against Canada on Jan 30. Subbed on against Honduras on Feb 2. Started against Morocco on Jun 1 and scored. Subbed on against Grenada in the Nations League on Jun 10 and started against El Salvador on Jun 14. Started against Japan on Sep 23 and subbed on against Saudi Arabia on Sep 27. Named to the World Cup squad on Nov 9 and subbed on against Wales on Nov 21. Subbed on against England on Nov 25 and against Iran on Nov 29. Subbed on against the Netherlands on Dec 3.
2021: Subbed on at halftime and scored against Jamaica on Mar 25. Subbed on against Northern Ireland on Mar 28. Started and picked up an assist against Switzerland on May 30. Subbed on against Honduras in the Nations League semifinal on Jun 3. Started and scored against Costa Rica on Jun 9. Started against El Salvador on Sep 2. Started and scored against Canada on Sep 5. Subbed on at halftime and scored against Honduras on Sep 8. Started against Jamaica on Oct 7 and subbed on against Panama on Oct 10. Started against Costa Rica on Oct 13. Started against Mexico on Nov 12. Started against Jamaica on Nov 16.
2020: Debuted against Costa Rica on Feb 1. Assisted and scored against El Salvador on Dec 9.
2019: Part of the October squad but didn't play.
Professional Experience
2021-22: Won the double with Red Bull Salzburg, announced move to Leeds United after the season.
2020-21: Officially joined Red Bull Salzburg during the January window, playing in 20 games and scoring five goals with the Austrian champions. Also won the Austrian Cup.
2020: Played in 27 games with the Union, winning the Supporters' Shield and named to the MLS Best XI.Moved to Red Bull Salzburg following the season.
2019: Joined the Philadelphia Union's senior squad, making 30 appearances in his first MLS season.
2018: 15 games with Bethlehem Steel.
2017: Member of Bethlehem Steel plying in six games.
Youth and College: A member of the Philadelphia Union's high school program, staying with the MLS club rather than attending Indiana University.