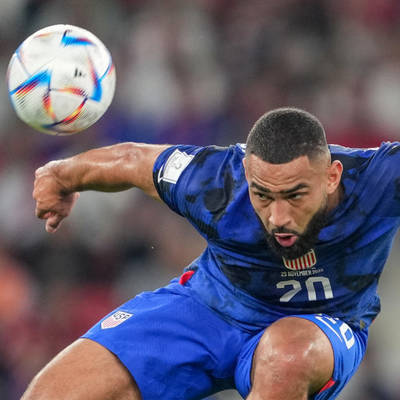 Defender
Biography of USMNT player Cameron Carter-Vickers who plays his club soccer on loan to Celtic.
Caps: 16
Cameron Carter-Vickers has spent several seasons on loan to clubs in the Championship from parent club Spurs. That's given him a unique experience having to work his way into squads in a variety of situations. His development as a top-level center back has benefited from the kind of experience that only comes from loan deals. Since the 2017-18 season, he's played for six Championship clubs before a loan to Celtic for the 2021-22 season. Celtic made the move permanent in June 2022 with Carter-Vickers winning back-to-back Premiership titles.
Vickers started with the Spurs academy system in 2009. Though born in Southend-on-Sea, his father is an American citizen. By 2014, he was in the USMNT youth team setup. Carter-Vickers has appeared for the USMNT U-18s, U-20s, and U-23s, making his senior squad debut in 2017.
Carter-Vickers's father Howard played major college basketball for Louisiana State University and was a first round draft pick in 1983. He played for the Denver Nuggets and Dallas Mavericks, moving to France to continue his professional basketball career in 1985.
RISING | Cameron Carter-Vickers: Two Sides Together
USMNT Experience
2022
Subbed on against Morocco on Jun 1. Started against Grenada in the Nations League on Jun 10 and El Salvador on Jun 14. Named to the World Cup squad on Nov 9 and started against Iran on Nov 29. Started against Trinidad and Tobago in the Nations League on Nov 16. Started against Trinidad and Tobago on Nov 20.
2019
Subbed on against Jamaica on Jun 5.
2018
Started against Paraguay on Mar 27. Started against Ireland on June 2 and France on Jun 9. Started against Mexico on Sep 11. Started against Peru on Oct 16.
2017
Subbed on against Portugal on Nov 14.
Professional Experience
2022-23
Won the Scottish League Cup on Feb 26, 2023. Played in 29 league games for Celtic, winning the Premiership and the Scottish Cup.
2021-22
Moved to Celtic on loan, winning the Premiership title. Joined Celtic on June 10, 2022.
2020-21
Loaned to Bournemouth, finishing 6th and exiting in the promotion playoffs.
2019-20
Played a dozen games on loan to Stoke City before a move to Luton Town where he had 16 appearances.
2018-19
Made 30 appearances on loan to Swansea City.
2017-18
Played 17 games on loan with Sheffield United, moved to Ipswich Town for the second-half of the Championship season playing in another 17 games.