Defender
The biography of USMNT World Cup soccer player Timmy Chandler who plays his club soccer in Germany.
Caps: 29 | Goals: 1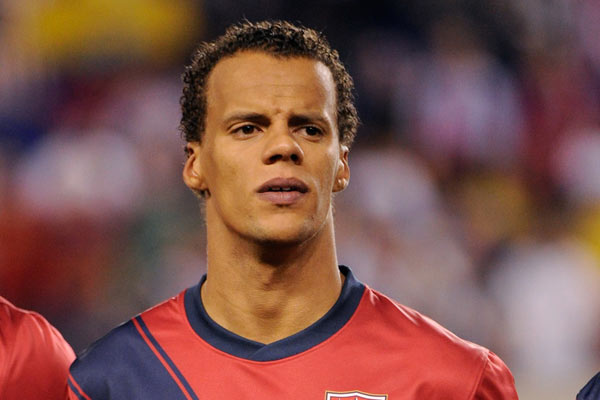 Born in Frankfurt to an African-American father and German mother, Timmy Chandler was raised in Germany. He began his career at German minor-league side Sportfreunde Oberau before spending time with Eintracht Frankfurt. He transferred to FC Nuremberg in the summer of 2010. He made his debut for Nurnberg's first team in January 2011, the same year he first played for the USMNT. Chandler became cap tied to the USMNT in 2013, eventually making the 2014 World Cup squad. Chandler rejoined Eintracht Frankfurt for the 2014-15 Bundesliga season.
Timmy Chandler's Story - "One Nation. One Team. 23 Stories."
USMNT Experience
2016
Named to the Copa Centenario roster but missed the tournament with an injury. Subbed on against Cuba on Oct 7. Started against Mexico on Nov 11.
2015
Started against Denmark on Mar 25 and Switzerland on Mar 31. Started against the Netherlands on Jun 5 and against Germany on Jun 10. Started against Guatemala on Jul 3 and scored his first goal for the USMNT. Started against Honduras to open Group A play in the 2015 Gold Cup on Jul 7 and against Panama on Jul 13. Started the Gold Cup quarterfinal against Cuba on Jul 18. Started against Panama in the 3rd-place game on Jul 25.
2014
Named to the final World Cup roster. Started against Azerbaijan on May 28th and Turkey on June 1st. Subbed on against Nigeria on June 8th. Started against the Czech Republic on Sep 3. Started against Ecuador on Oct 10 and Honduras on Oct 14. Started against Ireland on Nov 18.
2013
Started against Honduras on Feb 6th, cap-tying himself to the USA.
2011
Due to his dual nationality, Chandler was able to switch his international registration to the United States, making his debut for the US against Argentina in March.
Professional Experience
2022-23
Played in six games with Eintracht finishing 7th.
2021-22
Won the Europa League with Eintracht and finished 11th in the Bundesliga.
2020-21
Regained his regular role as a first-choice player, helping Eintracht to a 5th-place finish and a Europa League spot.
2019-20
Finished 9th with Eintracht.
2018-19
Injury cost him most of the season with Eintracht finishing 7th.
2017-18
Missed a large portion of the second-half of the season due to injury. Eintracht finished 8th in the Bundesliga and won the DFB Pokal.
2016-17
Finished 11th with Eintracht, runners-up in the DFB Pokal.
2015-16
Won the promotion/relegation playoff with Eintracht to keep the club's place in the Bundesliga.
2014-15
Signed with Eintracht Frankfurt finishing 9th in the Bundesliga.
2013-14
A tough season for Nurnberg, who were relegated to the 2.Bundesliga. Chandler missed time in 2014 with an injury.
2012-13
A regular with Nurnberg, making 30 appearances. Nurnberg finished 10th in the Bundesliga.
2011-12
Made debut for Nuremberg's first team in January, 2011. Scored his first goal a month later against VfB Stuttgart. Played in 30 games.