Position: Midfielder
Date of Birth: 07/09/1990
College Experience: San Diego State
Pro Team: Galaxy
Height: 5'8"
Weight: 150
Caps: 23
Goals: 3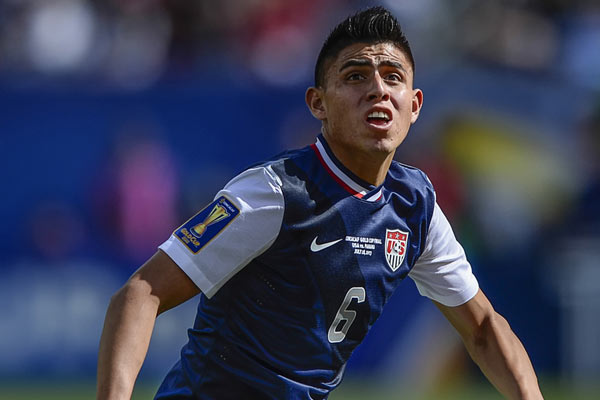 USMNT player Joe Corona emerged in CONCACAF as a player with a choice. Born in Los Angeles, he could represent the United States, Mexico, or El Salvador. After playing briefly with Mexico at youth level, Corona chose the USA. After leaving San Diego State after his freshman season, Corona joined Tijuana in 2010, winning promotion with the club. He is an Apertura champion with Tijuana. With the National Team, he was a member of the Gold Cup squads in 2013, 2015, and 2017. Corona joined Club America on loan for the 2018 Liga MX Clausura and Apertura. He won the Apertura title with America, returning to Tijuana for the 2019 Clausura. In March, 2019 he joined the LA Galaxy.
USMNT Experience
2018: Started against Bolivia on May 28. Subbed on against Ireland on Jun 2 and against France on Jun 9.
2017: Started against Ghana on Jul 1. Started against Panama on Jul 8 in the Gold Cup opener. Started against Nicaragua on Jul 15 and scored.
2015: Started against Mexico on Apr 15. Subbed on in the second-half against Cuba on Jul 18 in the Gold Cup quarterfinals. Started against Panama in the 3rd-place game on Jul 25.
2014: Named to the provisional World Cup roster. Started against the Czech Republic on Sep 3. Subbed on against Ecuador on Oct 10 and Honduras on Oct 14.
2013: Sees regular time with the USA as part of the 2013 Gold Cup squad, scoring against Cuba on Jul 13 in the group stage and against El Salvador on Jul 21 in the quarterfinals. Started the final against Panama on Jul 28. Subbed on in the second-half in the friendly against Bosnia and Herzegovina on Aug 14th.
2012: Earns his first cap with the senior squad after experience at Under-23 level. Debuts on May 26 against Scotland and becomes cap tied to the USA with an appearance in the Oct 16 World Cup Qualifier against Guatemala.
Professional Experience
2018-19: Won the Apertura with Club America, returning to Tijuana for the Clausura.
2017-18: Finished 3rd in the Apertura advancing to the semifinals with America. Finished 2nd in the Clausura advancing to the semifinals.
2016-17: A member of Dorados, returning to Tijuana at the end of the Clausura season. Finished in 11 place with Tijuana in the Apertura. Traded to Club America following the season.
2015-16: Still contracted to Tijuana, the club loaned him to Dorados for the 2016 Clausura.
2014-15: Played 28 games for Atlas. Joined Veracruz on loan for the 2015 Apertura finishing in 8th-place.
2012-13: 11 starts in the Clausura season for Tijuana.
2011-12: A solid Spring season for Tijuana, who win the 2012 Apertura title.
2010-11: Establishes himself as a regular with Tijuana.
2009-10: Signs with Tijuana and wins promotion to Liga MX.