Position: Midfielder
Date of Birth: 01/19/1985
College Experience: UCLA
Height: 5' 9"
Weight: 150 lbs
Caps: 44
Goals: 2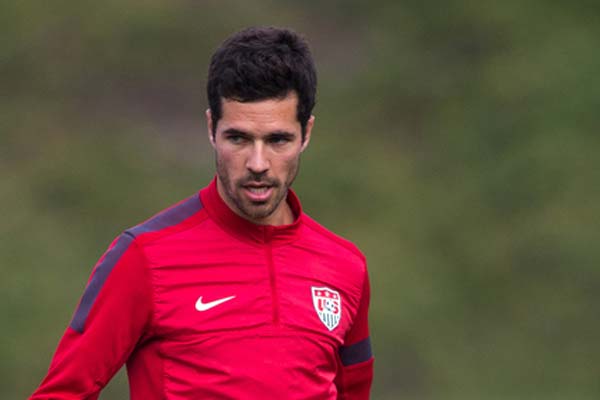 Joining the USMNT under coach Bob Bradley, Benny Feilhaber quickly accumulated a dozen caps in 2007 after debuting for the US against Ecuador on March 25 in Tampa. The highlight of the midfielder's already distinguished US career was a superb volley from outside the penalty area to win the Gold Cup final against Mexico in June.
Though his debut came in 2007, Feilhaber was called into camp by former USMNT coach Bruce Arena in 2005 and 2006.  Originally from Brazil, Feilhaber's family moved to California when he was six. Feilhaber was also eligible to represent Austria, turning down a call-up for the potential of playing for the United States.
Benny left UCLA early after making the team as a walk-on to sign with Hamburg in Germany's Bundesliga for the 2005-06 season.  He made his full-team debut in October, 2006, but after making nine appearances in the first half of the Bundesliga season, he was not favored by new coach Huub Stevens, who arrived during the winter break to arrest the team's pre-Christmas slump.  In the summer of 2007, he was transferred to newly promoted Derby County of the English Premier League. He joined Denmark's Aarhus in 2008.
In 2011, Feilhaber moved to MLS with the New England Revolution. Joining Kansas City for 2013, Feilhaber was part of the MLS Cup championship squad. He moved to LAFC in 2018. Feilhaber started the 2019 MLS season with Colorado, traded to Sporting KC on May 8. He announced his retirement on March 11, 2020. Feilhaber joined Sporting KC's technical staff in advance of the 2021 MLS season.
USMNT Experience
2017: Subbed on for the Jan 29 friendly against Serbia and started against Jamaica on Feb 3. Subbed on against Trinidad & Tobago on Oct 10.
2014: Subbed on in the second-half against Korea on Feb 1.
2013: Subbed on in the second-half against Canada on Jan 29th.
2012: Started against Venezuela on January 21st.
2010: Played in the January friendly against Honduras. Named to the World Cup roster. Had a strong showing at World Cup level, coming on as a second-half sub against Slovenia, Algeria, and Ghana.
2009: Played in the Confederations and Gold Cups, helping the US to runners-up finishes in both tournaments. Came on as a sub against Mexico on Aug 12th. Played in both of the October World Cup Qualifiers.  Got the start in his home club stadium on Nov 18th against Denmark.
2008: Called up to roster for Mexico friendly in Houston in February, where he appeared as a second half substitute.
2007: Made his National Team debut against Ecuador.  Scored spectacular winning goal against Mexico that made the US Gold Cup champions.  At Copa America, started in defeats to Argentina and Paraguay, and started in late-summer exhibition games against Sweden and Brazil. Made 14 senior appearances (13 starts) over the course of the year.
2006: Called into camp for the March 22 friendly against Germany.
2005: Part of the US squads for the FIFA World Youth Championships and the Maccabiah Games, where the US won a silver medal.  Called into camp for the Nov. 12th friendly against Scotland.
Professional Experience
2020: Retired on March 11.
2019: Signed for Colorado in January. Traded to Sporting on May 8.
2018: Traded to LAFC on Jan 3, making the playoffs.
2017: Won the US Open Cup with Sporting KC. 5th-place in the West, exiting the playoffs in the knockout round.
2016: A 5th-place finish and another early playoff exit with Kansas City.
2015: Another knockout round exit in the playoffs.
2014: Finished 5th in the West, losing in the knockout round of the playoffs.
2013: Joined Sporting Kansas City, playing in 27 games and scoring three goals and winning the MLS Cup.
2010-11: Stayed with Aarhus in Denmark's first division for most of the season before joining the New England Revolution on April 19th.
2009-10: Aarhus were relegated at the end of the season.
2008-09: Joined Aarhus.
2007-08: Moved from Hamburg to English Premier League's Derby County, making his debut as a late substitute in 1-0 win over Newcastle September 10. Struggled to make the bench during the first half of the season, despite Derby's position rooted to the bottom of the table.  A change in manager brought further bad news as Feilhaber lost his place even on the bench. Hoped for move to Maccabi Tel Aviv fell through.
2006-07: Made his debut for Hamburg's first team on October 12.  Made nine appearances for the club that season, but was not picked after the winter break and the arrival of new coach Huub Stevens.
2005-06 :Signed with Hamburg and played for their reserve team.