Position: Defender/Midfielder
Date of Birth: 07-06-2000
Pro Team: Rangers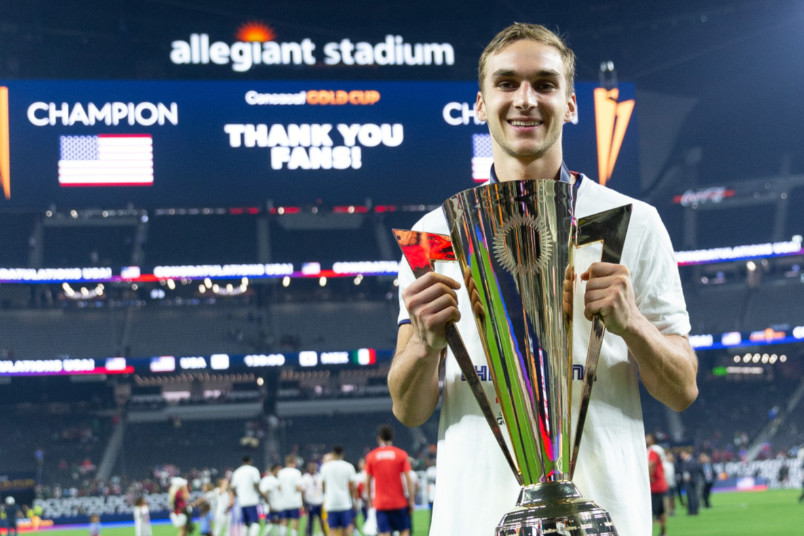 James Sands quickly emerged as an option for the USMNT in 2021 in part due to his ability to play as a defender or in midfield. Giving a coach a tactical option helped Sands emerge from the NYCFC academy as a first team player in 2017. By 2019, he was a regular with NYCFC building up a reputation as either a defensive midfielder or a defender. That versatility worked at USMNT level as well, with Sands part of the 2021 Gold Cup winning squad. Won the 2021 MLS Cup with New York. Moved to Rangers in January, 2022 on loan, returning to NYCFC on March 1, 2023.
USMNT Experience
2023: Started against Mexico on April 19.
2021: After making 42 appearances with the USMNT U-17s, Sands was called into the 2021 Gold Cup squad. He won his first senior cap
Professional Experience
2022-23: With Rangers from the beginning of the Premiership season until Mar 1, 2023 when he returned to NYCFC.
2022: Moved to Rangers on loan on Jan 5, finishing 2nd and runner-up in the Europa League.
2021: An MLS All-Star, won MLS Cup with NYCFC after finishing 4th in the East.
2020: Played in 16 games for NYCFC.
2019-20: Emerged as a regular for NYCFC making 19 MLS appearances.
2018-19: Played in three games for NYCFC and three more on loan to Louisville City.
2017: Joined NYCFC as a homegrown player, getting one game late in the season.
Youth and College: Part of the NYCFC academy system.
Photo by John Dorton – ISIPhotos.com