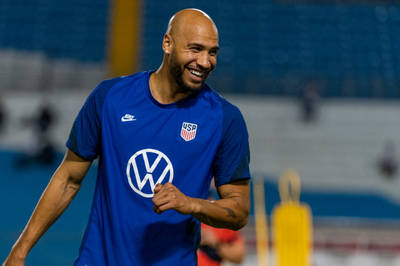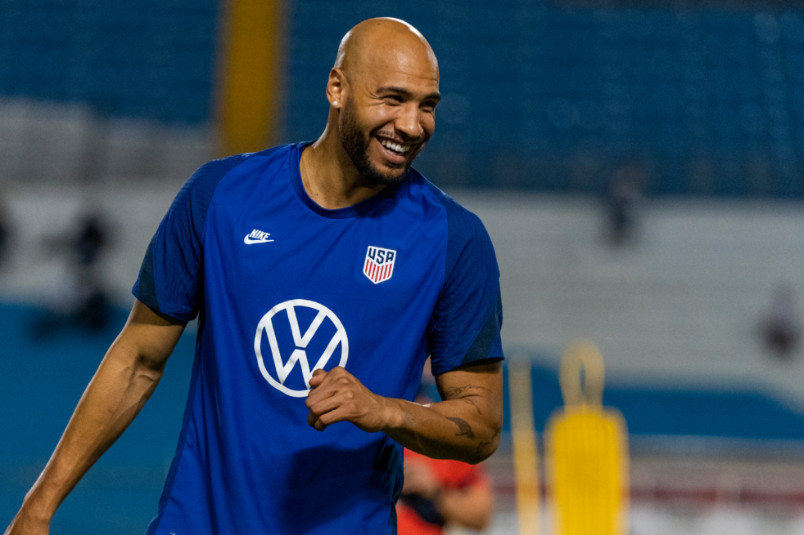 Defender
Biography of USMNT soccer player John Brooks who plays for Bundesliga club Hoffenheim.
Caps: 45 | Goals: 3
John Brooks grew up in Berlin, joining his hometown club Hertha BSC and using his US citizenship to join the USMNT. Brooks made that choice as a youth international after representing both the USMNT and Germany at youth international level. With his club, Brooks progressed quickly through the youth and reserve teams, debuting for Hertha's senior squad in 2012 and taking a starting job. He left Hertha following the 2016-17 season signing with Wolfsburg. Brooks joined Benfica on September 2, 2022 and moved to Hoffenheim on Jan 26, 2023.
USMNT Experience
2021
Started against Switzerland on May 30. Started in the Nations League semifinal against Honduras on Jun 3. Started against Canada on Sep 5 and Honduras on Sep 8.
2020
Started against Wales on Nov 12. Started in the final against Mexico on Jun 6.
2019
Started against Ecuador on Mar 21 and Canada on Nov 15.
2018
Started against Brazil on Sep 7 and Colombia on Oct 11. Started against England on Nov 15.
2017
Started the Mar 24 World Cup qualifier against Honduras. Started in the friendly against Venezuela on Jun 3. Started the World Cup qualifier against Trinidad & Tobago on Jun 8. Started against Portugal on Nov 14.
2016
Started against Puerto Rico on May 22 and Ecuador on May 25. Started against Bolivia on May 28 and scored. Started in the Copa Centenario opener against Colombia on Jun 4 and against Costa Rica on Jun 7. Started against Paraguay on Jun 11. Started against Ecuador in the Copa Centenario quarterfinals on Jun 16 and against Argentina in the semifinals on Jun 21. Started against Cuba on Oct 7. Started against Mexico on Nov 11 and against Costa Rica on Nov 15.
2015
Started against Denmark on Mar 25 and Switzerland on Mar 31. Started against the Netherlands on Jun 5 and scored in the 4-3 win. Started against Germany on Jun 10 and Guatemala on Jul 3. Started against Honduras to open Group A play in the 2015 Gold Cup on Jul 7 and against Panama on Jul 13. Started the Gold Cup semifinal against Jamaica on Jul 22 and against Panama in the 3rd-place game on Jul 25. Started the Sep 5 friendly against Peru.
2014
Started against Ukraine on Mar 5. Named to the final 2014 World Cup roster. Subbed on in the second-half against Turkey on June 1st. Subbed on at halftime against Ghana in the 2014 World Cup Group G opening game. Scored the first goal of his USMNT career to beat Ghana at the World Cup. Started against the Czech Republic on Sep 3. Started against Ecuador on Oct 10 and Colombia on Nov 14.
2013
After appearances with the USMNT U-20 and U-23 squads, Brooks debuted for the senior squad against Bosnia & Herzegovina on Aug 14 and played against Austria on Aug 19.
Professional Experience
2022-23
Moved to the Primeira Liga with Benfica, leaving for Hoffenheim in the Bundesliga in Jan, 2023. Played in 15 games for Hoffenheim, finishing 12th.
2021-22
Finished 12th with Wolfsburg, announcing in March he would leave the club.
2020-21
Put in a strong season with Wolfsburg, helping them to a 4th-place finish and a spot in the Champions League.
2019-20
A 7th-place finish with Wolfsburg.
2018-19
Finished 6th with Wolfsburg
2017-18
Moved to Wolfsburg in a record-setting deal for an American player. Missed part of the season due to injury, returning to help Wolfsburg stay in the Bundesliga by winning the relegation playoff.
2016-17
Finished in 6th-place with Hertha BSC.
2015-16
Regularly starting for Hertha, pushing up to 7th in the Bundesliga.
2014-15
Finished 15th in the Bundesliga with Hertha.
2013-14
Regular with Hertha in the topflight, scoring in his first Bundesliga game on Aug 10.
2012-13
Moved up to the senior squad, playing regularly in a season spent in the 2.Bundesliga. Won promotion.
2011-12
Regular with Hertha BSC's reserve team.