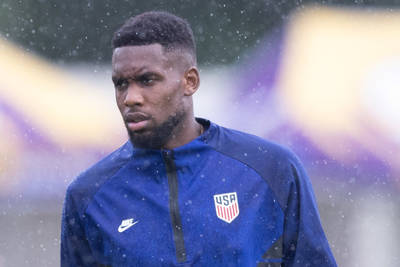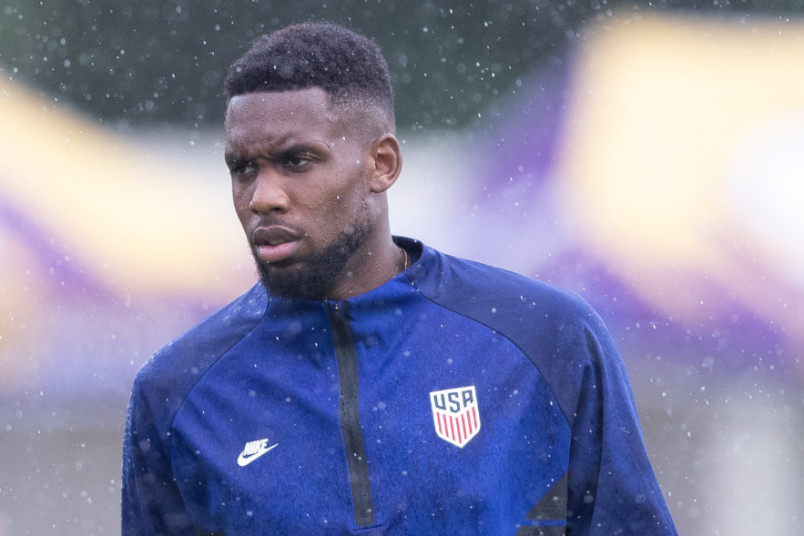 Forward
Biography of USMNT player Jordan Pefok who plays his club soccer for Union Berlin in the Bundesliga.
Caps: 9 | Goals: 1
Jordan Pefok started his international career with France before switching to the USMNT. Part of the youth system at Reims, he got his first opportunity in Ligue 1 during the 2014-15 season. A regular during the 2015-16 season, Pefok stayed with the club when they were relegated to Ligue 2. After spending part of 2016-17 on loan to a lower division side, Pefok once again established himself as a first team player with Reims during the 2017-18 Ligue 2 season. His 17 goals meant a move to Ligue 1 club Rennes where he spent two seasons before moving to Young Boys in the Swiss Pro League. Joining the USMNT in 2021, Pefok has already shown that he can score for club and country. Finishing the 2021-22 season as the leading scorer in Switzerland's top league, Pefok moved to Bundesliga club Union Berlin for the 2022-23 season. He moved on loan to Gladbach on August 31, 2023.
Photo by John Dorton – ISIPhotos.com
USMNT Experience
2022
Subbed on against Mexico on Mar 24.
2021
Subbed on against Jamaica on Mar 25, his debut with the USMNT. Started against Ireland on Mar 28. Subbed on against Switzerland on May 30. Subbed on against Honduras in the Nations League semifinal on Jun 3 and scored the game's only goal. Subbed on against Mexico on Jun 6, winning the Gold Cup title. Subbed on against Costa Rica on Jun 9. Subbed on against El Salvador on Sep 2 and started against Canada on Sep 5.
Professional Experience
2023-2024
Loaned to Gladbach on Aug 31.
2022-23
Joined Bundesliga club Union Berlin, playing in 31 games and scoring four goals.
2021-22
Finished 3rd in the Swiss Super League, the league's leading goal scorer with 22 goals in 32 games.
2020-21
Joined Young Boys in the Swiss Pro League on loan before making the move permanent. Scored 12 goals in 32 games with Young Boys winning the title.
2019-20
Played in 14 games for Rennes.
2018-19
Moved to Rennes in Ligue 1, playing in 15 games and scoring three goals. Won the Coupe de France.
2017-18
A regular at Reims scoring 17 goals in 35 games and winning promotion as Ligue 2 champions.
2016-17
Played in eight games for Reims in Ligue 2, spending most of the season on loan to Chateauroux where he scored 10 goals in 15 games.
2015-16
Played in 25 games in his first full Ligue 1 season with Reims, scoring three times in their relegation season.
2014-15
Got his first game with the senior squad at Reims.
2013-14
Moved up to Reims II, the club's reserve team appearing in 12 games and scoring twice.