Position: Defender
Date of Birth: 02/07/1986
Pro Team: Tijuana
Height: 5' 11"
Weight: 170 lbs
Caps: 29
Goals: 4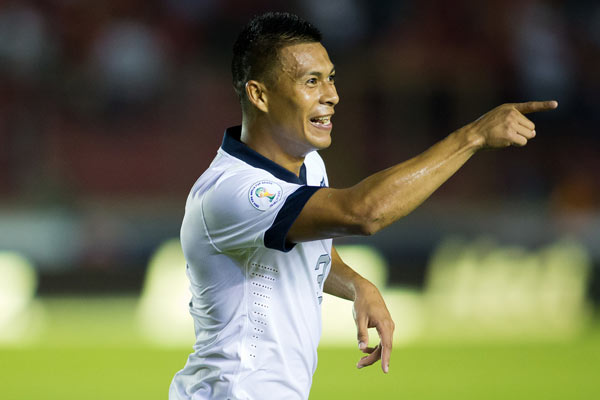 Michael Orozco is a California native of Mexican heritage who made his pro debut for San Luis during the Mexican Apertura season in 2006. He played in 55 league matches for the club through August 2008. In January 2010, he left San Luis to join the Philadelphia Union on loan. After one season, the Union decided not to exercise his contract and Orozco returned to San Luis.
Orozco also played for the US Under-23 team at the 2008 Beijing Olympics before earning his first senior cap later that same year.
USMNT Highlights
2016: Started against Iceland on Jan 31 and scored. Started the World Cup qualifier against Guatemala on March 25, 2016 and the friendly against Puerto Rico on May 22. Started against Ecuador on May 25 and against Bolivia on May 28. Subbed on against Paraguay on Jun 11. Started against Colombia in the 3rd-place game on Jun 25. Started against New Zealand on Oct 11. Subbed on against Mexico on Nov 11.
2015: Started against Denmark on Mar 25 and Switzerland on Mar 31. Subbed on for the USMNT in the 4-3 win over the Netherlands on Jun 5. Started the Sep 5 friendly against Peru and the Sep 8 friendly against Brazil. Started against Costa Rica on Oct 13 and against Trinidad & Tobago on Nov 18.
2014: Started against the Czech Republic on Sep 3. Started against Ecuador on Oct 10.
2013: Started against Belize in the Gold Cup on Jul 9, scoring the USA's 5th goal. Started against Costa Rica on Jul 16. Subbed on against El Salvador in the second-half on Jul 21. Started against Costa Rica on Sep 6. Started against Panama on Oct 15 and scored.
2011: Returned to the US lineup in August, 2011 in a friendly against Mexico.  Scored against Mexico at Azteca on Aug 15th.
2008: Made his USA debut in a World Cup Qualifier in October, 2008 against Trinidad & Tobago.
Professional Highlights
2016: With Tijuana for the Clausura, missing the playoffs.
2015: Won the Clausura title with Puebla, returning to Tijuana for the Apertura. 
2014: Made the playoffs with Puebla, finishing runners-up in the Apertura.
2013: Loaned to Puebla for the 2013 Clausura and Apertura seasons.
2012: A regular with San Luis during the Fall season, loaned to Puebla for the 2013 Clausura season.
2011: Returned to San Luis.
2010: Left San Luis for the Philadelphia Union.br> 2009: Had three starts and one goal for San Luis in the Copa Libertadores tournament.
2008: Had 11 starts for San Luis in the Clausura, helping the club advance to the semifinals.
2007: Became a starter for San Luis, playing in nine games during the Clausura tournament.
2006: Made his pro debut for Mexican club San Luis.