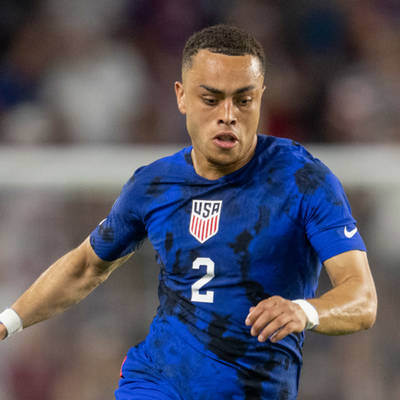 Defender
Biography of USMNT player Sergino Dest who plays his club soccer for FC Barcelona.
Caps: 32 | Goals: 2
A product of the Ajax academy system called De Toekomst, The Future in English, Dest is already doing what we expect from that level of player. He's made the now famous move from Ajax to Barcelona, something most associated with legendary Dutch player Johan Cruyff. Dest's rise brought with it a choice. He could play for the nation of his birth or use his father's American citizenship to represent the United States. Dest chose the USMNT, something that couldn't have been an easy decision for a player at his level.
Dest grew up in Almere, a new city built on reclaimed land in the 1970s. He began in the youth setup of their club side, now known as Almere City. By the age of 12, he was playing in the Ajax academy, moving through the levels to their B team Yong Ajax in the Dutch second division for the 2018-19 season. His run in the lower division lasted all of a few weeks into the 2019-20 season, moving to the senior squad and quickly becoming a regular in Eredivisie and Champions League play.
Early in the 2020-21 season, Dest made one of the biggest moves of any USMNT player in the program's history. He officially signed with FC Barcelona on Oct 1. Just like with Ajax, he quickly moved into contention for a starting role domestically and in the Champions League. Dest joined AC Milan on loan for the 2022-23 season. For 2023-24, he moved to PSV on loan.
Like the other members of the young generation of USMNT players, Dest had limited opportunities due to the pandemic's impact on the schedule. By 2021, he was a regular in the squad and part of the Nations League title winners. Able to play on the right or left side of defense and with a forward's mentality for changing games on his own, Dest is a key part of the national team.
02:57
USMNT Experience
2023
Started against El Salvador on Mar 27 and against Mexico on April 19. Started in the Nations League semifinal against Mexico on Jun 15. Started against Oman on Sep 12. Started against Germany on Oct 14 and Ghana on Oct 17. Started against Trinidad and Tobago in the Nations League on Nov 16. Started against Trinidad and Tobago on Nov 20.
2022
Started in the World Cup qualifier against El Salvador on Jan 27 and Canada on Jan 30. Started against Japan on Sep 23 and Saudi Arabia on Sep 27. Named to the World Cup squad on Nov 9. Started against Wales on Nov 21, England on Nov 25, and Iran on Nov 29 in group B. Started against the Netherlands in the round of 16 on Dec 3.
2021
Scored in the 1-0 shutout of Jamaica on Mar 25 and played the first-half against Northern Ireland on Mar 28. Started against Switzerland on May 30. Started in the Nations League semifinal against Honduras on Jun 3 and in the final against Mexico on Jun 6. Subbed on against Costa Rica on Jun 9.  Started against El Salvador on Sep 2 and Canada on Sep 5 in Concacaf World Cup qualifying. Started against Jamaica on Oct 7. Started against Costa Rica on Oct 13 and scored.
2020
Started against Wales on Nov 12 and Panama on Nov 16.
2019
Debuted against Mexico on Sep 6 and started against Uruguay on Sep 10. Started against Canada on Nov 15. Won the US Soccer Young Male Player of the Year award.
Professional Experience
2023-24
Returned to Barcelona, joining PSV on loan on Aug 21, 2023.
2022-23
Moved to AC Milan on loan, playing in 8 games and finishing 4th in Serie A.
2021-22
Played in 21 games with Barcelona before an injury late in the season. Barca finished 2nd in La Liga.
2020-21
Made three appearances for Ajax. Joined Barcelona in October. Won the Copa de Rey and finished 3rd with Barca.
2019-20
Made one appearance with Yong Ajax before joining the senior squad. Played 20 games in the Eredivisie, 10 in Europe. Won the Ajax Talent of the Year award
2018-19
Played 17 games with Yong Ajax.
Youth and College
A product of the famous Ajax academy system, De Toekomst.