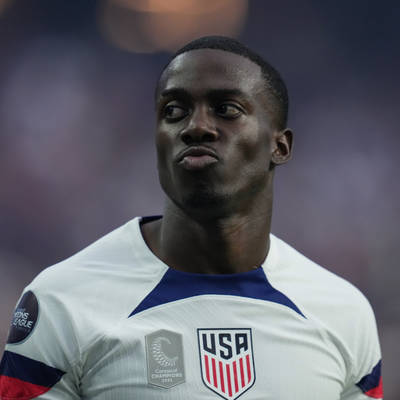 Forward
Biography of USMNT player Tim Weah who plays his club soccer with Lille.
Caps: 35 | Goals: 5
Faced with one of the more interesting dual-national situations in world soccer history, Weah chose the country of his birth where he developed as a soccer player instead of the country where his father was President. Not just the head of state, but also the country's greatest soccer superstar. Instead, Tim charted his own path starting with the Red Bulls academy system and then PSG's. Prior to the start of the 2017-18 season, Weah signed with PSG. After limited playing time, he had a breakout loan spell with Celtic in 2018-19 that led to a permanent move to Lille. Weah turned that into opportunity with Lille a title challenger in 2020-21 and Weah a key part of their attack. On July 1, 2023, he moved to Juventus in Series A.
At USMNT level, Weah played for the U-15s, U-17s, U-20s, and U-23s, making his senior squad debut in 2018. There's no question that he already offers the USMNT a dynamic option at the top of the formation while gaining experience at the highest level in European soccer.
05:45
USMNT Experience
2023
Started in the Nations League semifinal against Mexico on Jun 15 and the final against Canada on Jun 18. Started against Uzbekistan on Sep 9 and scored. Started against Oman on Sep 12. Started against Germany on Oct 14 and Ghana on Oct 17.
2022
Started in the World Cup qualifier against El Salvador on Jan 27. Started against Mexico on Mar 24 and Costa Rica on Mar 30. Started against Morocco on Jun 1 and scored. Started against Uruguay on June 5. Started against El Salvador in the Nations League on Jun 14. Named to the World Cup squad on Nov 9. Started against Wales on Nov 21 and scored. Started against England on Nov 25 and Iran on Nov 29. Started against the Netherlands in the round of 16 on Dec 3.
2021
Subbed on against Switzerland on May 30 and against Mexico in the Nations League final on Jun 6. Started against Costa Rica on June 9. Subbed on against Jamaica on Oct 7. Started against Panama on Oct 10 and Costa Rica on Oct 13. Started against Mexico on Nov 12 and setup the opening goal. Started against Jamaica on Nov 16 and scored.
2020
Subbed on against Wales on Nov 12 and Panama on Nov 16.
2018
Debuted against Paraguay on Mar 27. Started and scored against Bolivia on May 28. Started against Ireland on Jun 2. Subbed on against Brazil on Sep 7 and started against Mexico on Sep 11. Started against Colombia on Oct 11 and Peru on the 16. Started against England on Nov 15.
Professional Experience
2023-24
Joined Juventus on July 1.
2022-23
Played in 29 games for Lille, finishing 5th.
2021-22
Finished 10th with Lille.
2020-21
Won the Ligue 1 title with Lille. Limited appearances due to a hamstring injury.
2019-20
Joined Lille where injuries limited him to three appearances.
2018-19
Played three times with PSG's reserve team and twice with the senior squad where he scored his first goal. Moved to Celtic in the Scottish Premier League on loan, playing in 13 games and scoring three goals.
2017-18
A member of PSG's reserve team, playing in a dozen games and scoring twice. Made three appearances with the senior squad.